From On-Screen Elections in 'Newton' to Off-Screen Voter Awareness Hero, it is "Lights, Camera, Vote !" for Rajkummar Rao all the way
CEC Rajiv Kumar appeals to influencers from all walks of life to promote value of vote for pushing up voter turnout in elections
Renowned actor Rajkummar Rao today took on a new role – that of 'National Icon' for voter awareness and education for the Election Commission of India. An MoU was signed with the "Newton" star for a period of 3 years at an event organized at New Delhi in the presence of Chief Election Commissioner Shri Rajiv Kumar and Election Commissioners Shri Anup Chandra Pandey and Shri Arun Goel.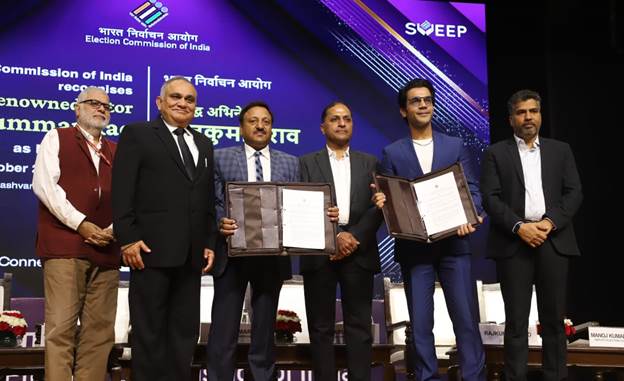 Sh. Rajkummar Rao, known for his commitment to meaningful cinema and social causes, shared his appreciation for the election officials who in spite of various challenges conduct elections and ensure that no voter is left behind. While expressing concern on the apathy of youth and urban voters towards the electors process, he said that "Our collective voice, expressed through our votes, has the power to form a participative democracy''. Youth is one the biggest stakeholder in this democratic process and urged them to become agents of positive transformation through their vote.
CEC Shri Kumar said "From dazzling audiences on the big screen in various movies, Rajkummar Rao is now taking his star power off-screen to promote an even bigger production: Voter awareness in Elections. His role as Newton, the election officer, truly hit home with the essence of democratic challenges in a Naxal-affected state, making him the perfect choice for the Election Commission. This collaboration aims to harness the influence and popularity of Mr. Rajkummar Rao to encourage citizens, especially youth across the nation to actively participate in the electoral process."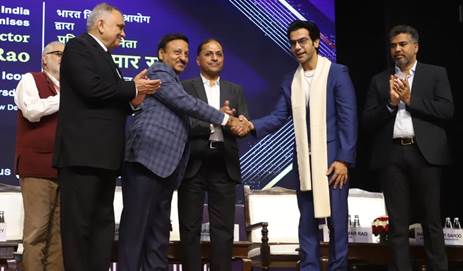 While urging youth to actively participate in elections CEC Shri Kumar said "Once you associate with the electioneering process, you will understand the intrinsic power of democracy and value of your vote". He appealed to influencers from all walks of life including the media to promote the importance of voting and in pushing up the voter turnout in forthcoming elections.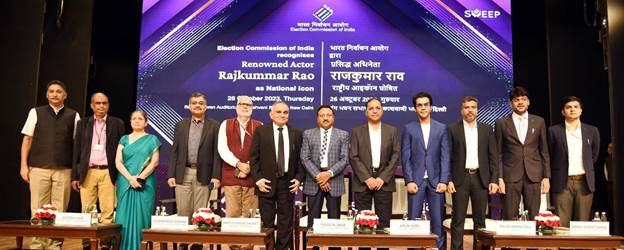 Election Commissioner, Shri Anup Chandra Pandey said that it has always been the endeavour of ECI and it keeps experimenting with new initiatives to enhance voter turnout in the elections. He said Shri Rajkummar Rao is an apt choice for a national icon who has acted in a movie based on conducting elections in tough and challenging conditions.
Election Commissioner Shri Arun Goel while highlighting the issue of urban and youth apathy towards elections said that collaboration with Shri Rajkummar Rao would be fruitful in bringing about behavioral and attitudinal change and nudging urban youth to actively participate in the elections.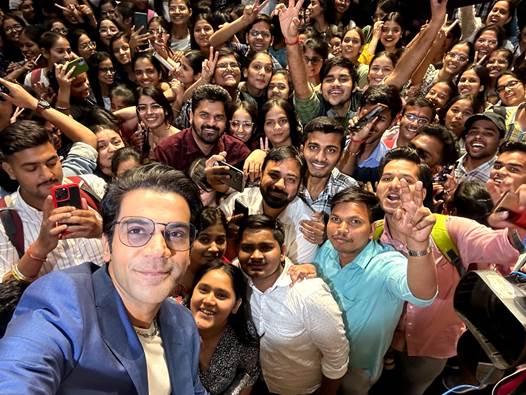 The signing of the MoU with Rao signifies a shared commitment to empower and educate citizens about the importance of exercising their voting rights. The collaboration will encompass a range of activities, including Shri Rao promoting voter awareness in various TV talk shows/ programs and digital campaigns etc, all aimed at raising awareness about the importance of voting and strengthening the roots of democracy by fostering a more engaged and informed electorate.
On the occasion, the Commission also launched a promotional video and poster for the ongoing Special Summary Revision for updation of Electoral Rolls across the country except five poll going states.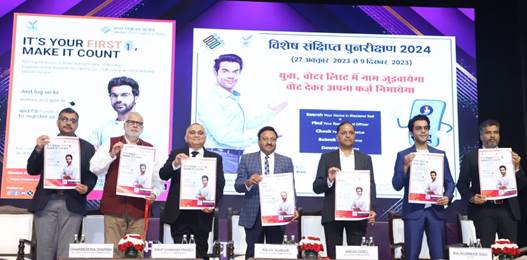 Background:
ECI associates itself with renowned Indians from various fields and designates them as ECI's National Icons to motivate voters for participation in the festival of democracy. Last year, the Commission recognised famous actor Mr. Pankaj Tripathi as the National Icon. Just last month, the Commission recognised cricket legend and Bharat Ratna awardee Shri Sachin Ramesh Tendulkar as the National Icon. Earlier, during the 2019 Lok Sabha Elections, stalwarts like M.S. Dhoni, Aamir Khan and Mary Kom had been the ECI National Icons.
***************