"NRF will catapult us to the league of handful developed nations pioneering new research in new frontiers": Dr Jitendra Singh
Anusandhan Rules & Regulations, Governing Council members under advance stage of finalization
Dr Jitendra Singh chairs the Monthly joint Meeting of Science Ministries and Departments
"Anusandhan" National Research Foundation (NRF) will unfold Prime Minister Shri Narendra Modi's vision for India's science driven growth, said the Union Minister of State (Independent Charge) Science & Technology; MoS PMO, Personnel, Public Grievances, Pensions, Atomic Energy and Space while chairing the monthly joint meeting of Union Secretaries of all the Science Ministries and Departments, in New Delhi today.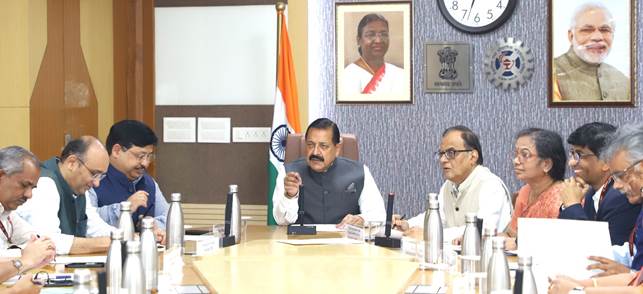 The Minister said, the NRF, envisaged by PM Modi, will catapult us to the league of handful of developed nations pioneering new research in new frontiers.
"Anusandhan" NRF Act was passed by the Parliament in the recent Monsoon session. NRF will provide high level strategic direction for research, innovation and entrepreneurship in the fields of Natural Sciences including Mathematical Sciences, Engineering and Technology, Environmental and Earth Sciences, Health and Agriculture.
Secretary, Department of Science & Technology, Dr. Abhay Karandikar informed the Minister that he convened the first meeting of NRF Implementation Committee recently. The Draft Rules & Regulations will be ready by next week and once finalized, it will be tabled in Parliament.
Principal Scientific Adviser (PSA) to the Government of India, Prof. Ajay Kumar Sood said, a proposal of names for the 16-member NRF Governing Body is also under finalization. It will include 6 Experts, 5 Industry representatives and 1 Humanities expert. The NRF will connect to Tier 2 & Tier 3 institutions since 11% of its budget is earmarked for their Capacity Building.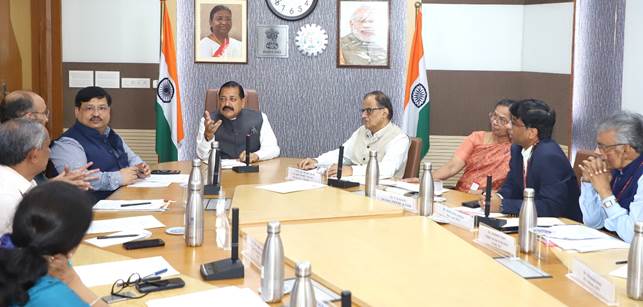 Dr Jitendra Singh said the Executive Council of NRF is mandated not only to monitor the progress of the different projects but also to analyse the accountability of the funding at different level stages. NRF will promote the culture of research and innovation throughout India's universities, colleges, research institutions and R&D laboratories and give further impetus to Clean Energy research in India and Mission Innovation, he said.
Dr Jitendra Singh stressed that Tier 2/3 Institutions will need handholding so that they can absorb the funds. Besides, he said, the NRF will bring about sweeping changes in the work culture as Industry will have to come forward to take risk cover and await the gestation.
NRF budget envisions a spending of Rs. 50,000 crore over five years, out of which a major share of Rs. 36,000 crore, over 70%, is estimated to come from non-government sources, from industry & philanthropists, from domestic as well as outside sources.

Dr Jitendra Singh said the NRF will hike the R&D spending in the country.
"The demarcation between the Public and Private sector will be bridged and there will be integration. NRF will also act as a think tank, it has the mandate of deciding the themes on which the projects have to be undertaken and funded, and deciding on foreign tie-ups," he said.
Dr Jitendra Singh said there will be Industry linkages right from the beginning, creating an optimum ecosystem for innovation. Active involvement of Industry and the capital to push the quantum start-up ecosystem in India is required to boost the industry.
"Prime Minister Modi envisages the NRF that will pave the way for India to emerge a Developed Nation by 2047," he said.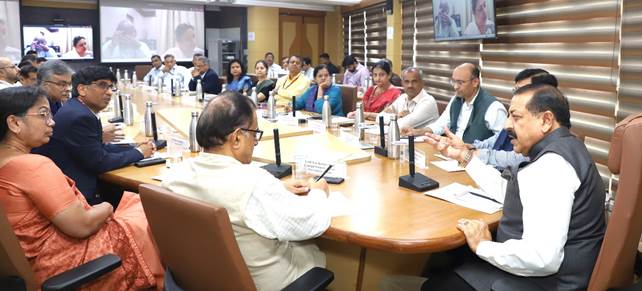 NRF will be an apex body to provide high-level strategic direction of scientific research in the country as per recommendations of the National Education Policy (NEP) – 2020, at a total estimated cost of Rs. 50,000 crores during five years (2023-28).
The Department of Science and Technology (DST) will be the administrative Department of NRF which will be governed by a Governing Board consisting of eminent researchers and professionals across disciplines. Since the scope of the NRF is wide-ranging – impacting all ministries – the Prime Minister will be the ex-officio President of the Board and the Union Minister of Science & Technology & Union Minister of Education will be its ex-officio Vice-Presidents. NRF's functioning will be governed by an Executive Council chaired by the Principal Scientific Adviser to the Government of India.
NRF will forge collaborations among the industry, academia, and government departments and research institutions, and create an interface mechanism for participation and contribution of industries and State governments in addition to the scientific and line ministries. It will focus on creating a policy framework and putting in place regulatory processes that can encourage collaboration and increased spending by the Industry on R&D.
<><><><><>