CSIR-NIScPR celebrated 82nd Foundation Day of CSIR on 10th October, 2023 at CSIR-NIScPR campus. Prof Chetan Singh Solanki, Founder, Energy Swaraj Movement and Professor, IIT Bombay, (also known as Solar Man of India) was the Chief Guest on the occasion.
The programme started with the Welcome Address by Prof Ranjana Aggarwal, Director NIScPR. Prof Aggarwal extended a warm welcome to all the attendees, setting the tone for the programme.
She gave an overview the CSIR foundation day and said that this year's foundation day was unique in the sense that all the CSIR laboratories came together on a single platform and showcased their achievements collectively. She highlighted the role played by CSIR laboratories in the technological progress of the country and how they are contributing to an AtmaNirbhar Bharat.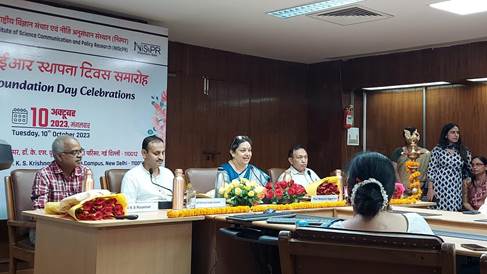 This was followed by the Foundation Day lecture by the Chief Guest, Prof Chetan Singh Solanki. The title of the lecture was Six-Points understanding of Climate Change and Corrective Actions. Prof Solanki shared his invaluable wisdom on energy conservation with the CSIR-NIScPR family. He said that it is the wrong ways of using and consuming energy which is leading to so problems like Climate Change. He also gave his mantra of using energy judiciously, which he refers to as AMG (Avoid, Minimize and Generate) approach. Avoid one third of energy which we consume unnecessarily or can easily avoid in our homes, Minimize energy wastage by using energy efficient appliances and lastly, Generate one third of energy. This way we can save energy and hence tackle the big problems like Climate Change. The Chief Guest stressed upon the important role played by us as individuals in the whole scheme of energy conservation.

Chief Guest Prof Chetan Singh Solanki giving CSIR Foundation Day Lecture
In addition to these distinguished speakers, the event also featured several key activities:
Book Releases: The first ever Biannual Report (2021-2023) of CSIR-NIScPR that showcased CSIR-NIScPR's achievements and contributions to the field of science communication and science policy, was released jointly by the Chief Guest and Director-NIScPR. In addition to this, another publication titled, 'Annual Journey: The magic of migration' by Dr Sukanya Dutta was also released on the occasion.
Felicitation of Retired Employees: The programme was also marked by the felicitation of NIScPR's retired employees, who have been the cornerstone of its success over the years and those who have completed 25 years of the service.
Cultural Programme: A delightful cultural program, featuring performances by the talented students and staff of CSIR-NIScPR captivated the audience with music, dance, and other artistic expressions.
Prize Distribution: To recognize and celebrate the exceptional talent within the CSIR-NIScPR family, the event also included a prize distribution ceremony for the winners of various competitions held in anticipation of this grand occasion.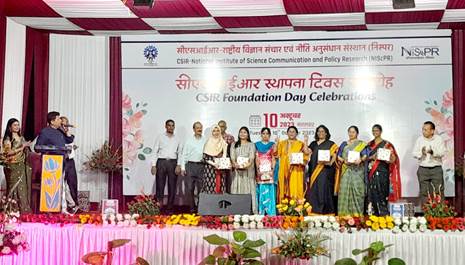 Winners with their Prizes
CSIR Foundation Day is not just a celebration of its past achievements but also a glimpse into a promising future of innovation, excellence and endurance. This event serves as a reminder of the organization's enduring commitment to its mission and values.
CSIR-National Institute of Science Communication and Policy Research (CSIR-NIScPR), New Delhi came into existence in 2021 with the merger of erstwhile CSIR-National Institute of Science Communication and Information Resources (CSIR-NISCAIR), New Delhi and erstwhile CSIR-National Institute of Science, Technology and Development Studies (CSIR-NISTADS), New Delhi. It is a flagship research institution in India that specializes in the field of science communication and policy studies. The institute publishes several research journals that cover a wide range of topics in science and technology. It also offers academic programmes in science communication and policy research at postgraduate and doctoral levels.
<><><><><>