New Delhi :- 
The star performers among BHEL success partners felicitated
"BHEL SAMVAAD 3.0 अनुसन्धान से आत्मनिर्भरता की ओर, BHEL की एक और पहल"
Bharat Heavy Electricals Limited (BHEL) under the aegis of Ministry of Heavy Industries (MHI) successfully organised "BHEL SAMVAAD 3.0 – अनुसन्धान से आत्मनिर्भरता की ओर, BHEL की एक और पहल" the third edition of its dialogue with domestic business partners, industry associations, academia and research institutes to promote local suppliers, at Bharat Mandapam today.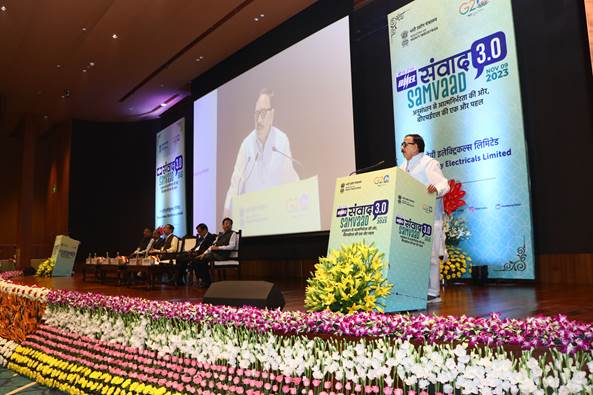 In this mega-event,  Dr. Mahendra Nath Pandey, Union Minister for  Heavy Industries launched the MHI's 'Annual Capacity Building Plan (ACBP)' for 2023-24 outlining key strategic areas with focused capacity-building initiatives within the Ministry to enhance capability across all levels to achieve maximum governance to fulfill the  PM's vision of Mission Karmayogi (National Programme for Civil Services Capacity Building (NPCSCB) Plan).
Addressing the gathering, Dr. Pandey said that  under the leadership of  Prime Minister Shri Narendra Modi today, we are moving towards building a New India. He further mentioned that five pillars of Aatmanirbhar Bharat (economy, infrastructure, systems, vibrant demography and demand) have not only strengthened our manufacturing capabilities but also helped in reducing our dependence on foreign goods, which is also important from the national securities' point of view.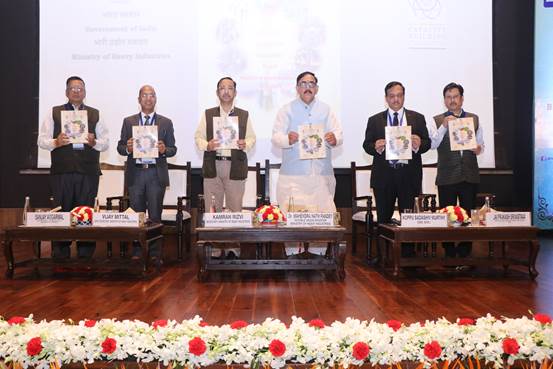 Lauding the indigenization efforts of BHEL, he expressed happiness for the initiative taken by BHEL under the name BHEL SAMVAAD since Dec'2020.
In his address, Shri Kamran Rizvi, Secretary (HI) shared that the Ministry is working extensively towards providing an ecosystem for the growth of the heavy industry sector. He underlined the significant role of BHEL in shaping the industrial landscape in the country that has helped in reducing India's dependence on imports, and initiatives like BHEL SAMVAAD stand testimony to their commitment towards Aatmanirbhar Bharat.
Talking about the emergence of new technologies and the need to update the current technological capabilities, Shri Rizvi emphasized that newer technologies are being developed almost every day in today's world, and learning new skills and accumulating knowledge of current trends is a need of the hour. He  also informed about the government platform, where more than 1000 courses are being offered for skill upgradation. He pointed out that the Annual Capacity Building Plan (ACBP) is the right step in this direction.
Shri Vijay Mittal, Joint Secretary (HI) informed about the efforts made by BHEL along with its successful partners in the indigenization of critical components. Mentioning the importance of each official's role down the line, he quoted "Any chain is as strong as its weakest link". Two unique immersion programs have been conducted by the Ministry on "Industry 4.0" and "Electric Vehicles" as part of a knowledge addition program for Ministry officials. He added that after thorough discussions with all the stakeholders, various modules for training have been prepared and domain-specific knowledge has been created for MHI.
The star performers (suppliers/vendors) among BHEL success partners, who contributed towards Aatmanirbhar Bharat were felicitated by the Minister.
Senior officials from MHI, CMD & other Board members of BHEL, Sr. officials from Department of Expenditure, Ministry of Steel, DPIIT, representatives of local vendors, industry associations, academia and research institutes participated in the event.
*****