ECGC assures exporters to provide cost-effective credit insurance cover


Rs. 4,400 crore capital infusion will help expand our services: CMD Senthilnathan
Mumbai, 1 October : ECGC Ltd. (formerly Export Credit Guarantee Corporation) has assured the exporters that it will not increase the insurance premium and will continue to give credit insurance cover at the same cost, despite the disruption caused by COVID-19 pandemic.  Addressing media persons and exporters in Mumbai, the Chairman & Managing Director of ECGC Shri M. Senthilnathan said "all payable claims will be duly paid and we have enough financial resources to meet any increase in claims."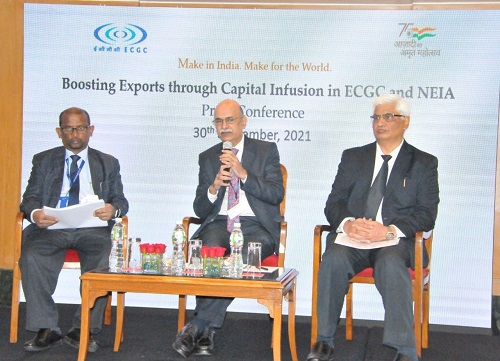 The media interaction was held in the light of recent decision of the Union Cabinet to infuse Rs. 4,400 crore additional capital and list the corporation on the stock exchange. Shri Senthilnathan said: "The support from the Government is very timely and adequate. This will add to our financial strength not just to make claim payment but also to expand our services."
"There is an enormous opportunity for a country like India, where international businesses across the globe are looking to seriously diversify supply sources. This is the right time and we are sure, we will be able to expand our services in tune with the demand from expanding exports from India," Shri Senthilnathan added.
Speaking about the huge opportunities awaiting India's exports sector, he explained how the V-shaped recovery (post pandemic), as seen in most countries will positively add to the growth of international merchandise exports. "It is predicted that the international merchandise exports will grow at 3.1% per annum till 2030 to reach $26 trillion."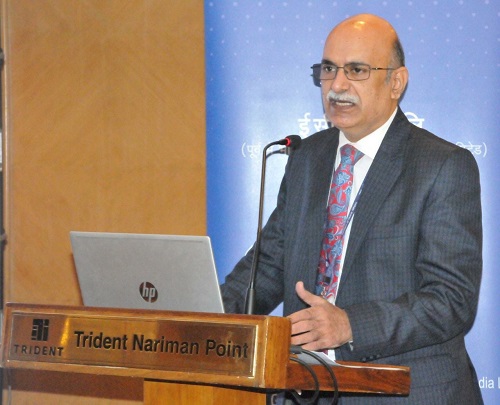 Senthilnathan elaborated about ECGC's commitment to expand exports. He expressed ECGC's desire to partner with like-minded institutions like SIDBI which is trying to identify new companies and start-ups to export indigenous products which are advanced and uses new technologies.
The Chairman also spoke about the crucial role played by ECGC during the pandemic to support the exports sector of the country. "When many private insurers had withdrawn from the market (owing to the pandemic), we had expanded our cover during 2020.  We are like fire fighters".
The CMD further said that unlike other countries, in India, Government has created a special purpose vehicle in the form of NEIA (National Export Insurance Account) Scheme to support exports and ensure that the trust is funded on a leverage ratio of 1:20 so that the risk is undertaken by the trust and it is also supported by government funding.  The Union Cabinet has also approved infusion of Rs.1,650 crore grant-in-aid over five years.
Speaking about future projects, the CMD said that ECGC is taking the help of Indian Institute of Foreign Trade, to identify sectors which are credit insurance intensive and export-intensive.
At a presentation given during the event, GM, ECGC, Shri Nirdosh Chopra informed that ECGC had paid around Rs. 7,500 Crore claims during the last five years, thereby helping exporters as well as banks in executing their business without any delay.
He said that the capital infusion will enable ECGC to issue insurance covers that can support additional exports of ₹ 5.28 lakh crore over the five-year period. "Capital infusion in ECGC will enable it to expand its coverage to export-oriented industry particularly labor-intensive sector. The approved amount will be infused in instalments thereby increasing the capacity to underwrite risks up to ₹ 88,000 crore."
ECGC listing in FY 22-23
ECGC is expected to be listed on the stock exchange during FY 2022-23.  This is expected to help the company adopt better corporate governance practices and mobilize resources from market through IPO in future.
About ECGC 
ECGC was set up in 1957 with the objective of promoting exports from the country by providing Credit Risk Insurance and related services for exports. It functions under the administrative control of Ministry of Commerce & Industry. Over the years it has designed different export credit risk insurance products to suit the requirements of Indian exporters and commercial banks extending export credit.  The company is headquartered in Mumbai, and has branch offices across major cities of India.
The official statement by ECGC on the cabinet decisions can be accessed Here.