Project Development Cell of Department of Fisheries supported by Invest India and National Fisheries Development Board jointly organised industry interactions
Hyderabad :- These interactions witnessed participation from stakeholders including leading companies, industry associations in production and processing verticals of value chain
The fisheries and aquaculture sector is being recognized for its contribution to global food security, nutrition, and livelihood generation. The Indian fisheries sector has witnessed a tremendous increase in production and exports over the decades which can be attributed to the commendable efforts of the stakeholders involved across the value chain. The Government of India is cognizant of the numerous opportunities in the sector and has been taking various initiatives for the holistic growth of this significant sector. Department of Fisheries is working towards transforming the Indian fisheries and aquaculture while fostering a favourable environment for increasing entrepreneurship and promotion of ease of doing business in the sector.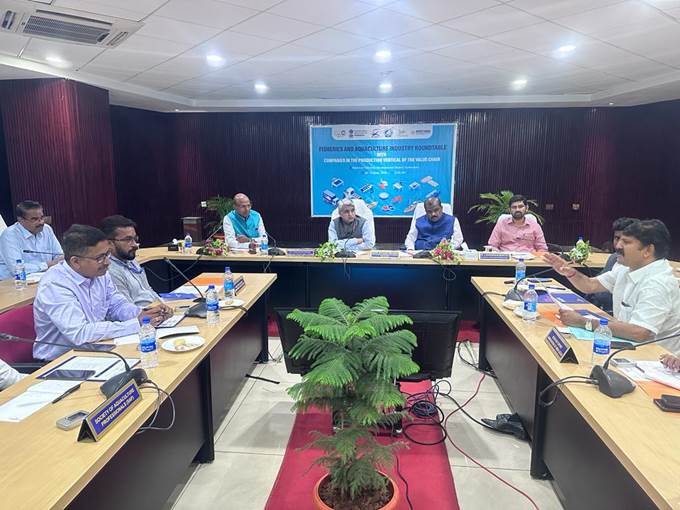 As envisioned by our Prime Minister, the Project Development Cell (PDC) has been set up in various Ministries/Departments including the Department of Fisheries with the prime objective to accelerate investments in India, creation of investible projects, issue resolution, handholding investor and investees alike. The PDC is actively supported by a dedicated team of Invest India.
Members of the PDC (Department of Fisheries and Invest India) have been interacting with various stakeholders across the value chain to understand company-specific investment plans, issues, etc. that shall not only address the growth of the sector but on a larger platform, address issues such as doubling fish-farmers' income, employment generation and increased exports.
In this regard, National Fisheries Development Board and Invest India jointly organised vertical focused industry roundtables chaired by the Joint Secretary, Department of Fisheries, Ministry of Fisheries, Animal Husbandry and Dairying at NFDB, Hyderabad today. The roundtable witnessed participation from the leading production and processing companies engaged in production and processing verticals along with industry associations and autonomous bodies involved in the value chain. During the interaction, the future plans of the participating companies, industry specific issues and areas of support were discussed.
The Chief Executive, National Fisheries Development Board while setting the context, highlighted various initiatives undertaken by GOI including Blue revolution, FIDF, PMMSY in addition to the various capacity building initiatives and activities to boost production in the fisheries and aquaculture sector.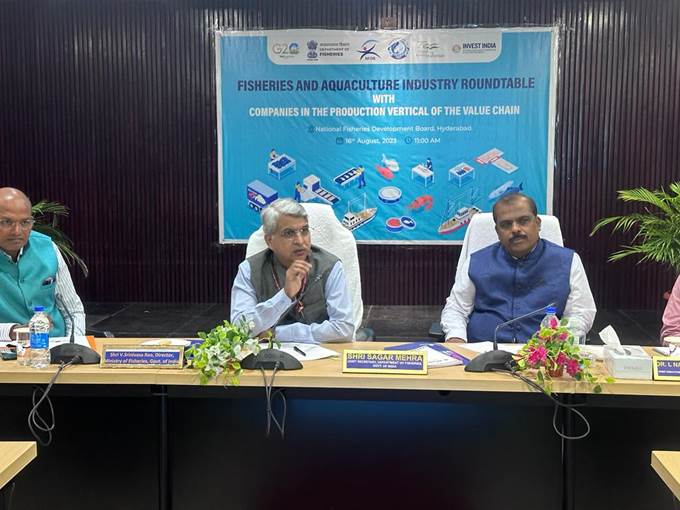 In his keynote address, Joint Secretary, Department of Fisheries emphasized on the importance of production vertical in ensuring the quality, quantity, and diversity of aqua products for domestic and export markets. He highlighted that a robust processing ecosystem must be augmented by stakeholder groups, from "catch to consumer" to create an organized market in the fisheries and aquaculture sector.
During the roundtable, the participating companies expressed their views on improvements in the fisheries value chain, traceability, strengthening the export markets, strategies for enhancing domestic consumption etc.
In his closing remarks, Joint Secretary Department of Fisheries thanked the business and industry associations for actively sharing their inputs and highlighting the investment avenues in fisheries and aquaculture sector.
*****