New Delhi :- 
'G20 Standards Dialogue' to guide the world for a better future: Shri Ashwini Kumar Choube
The Bureau of Indian Standards (BIS), under the aegis of India's G20 presidency, is hosting the G20 Standards Dialogue 2023. The 2-day event commenced today at the iconic Bharat Mandapam in New Delhi. Shri Ashwini Kumar Choubey, Minister of State for Consumer Affairs, Food & Public Distribution, Environment, Forest & Climate Change, inaugurated the event.
G20 Standards Dialogue 2023, is being organized in collaboration with the Ministry of Consumer Affairs, Food & Public Distribution, and the Ministry of Commerce & Industry of the Government of India.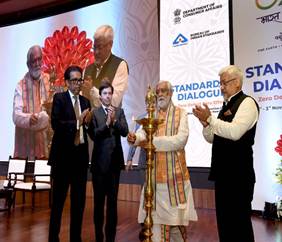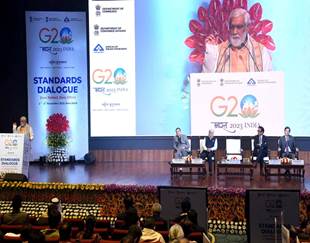 While delivering the inaugural address the Minister said, "The theme of this G20 Standards Dialogue is 'Zero Defect Zero Effect' and I feel this is most appropriate and highly critical area for global community. I am very happy that we have participation from across the world as this is a consumer centric program and also because this dialogue will guide the world for best utilisation of resources for our sustainable future."
The Minister also added, "Standards are critical for today's world and deliberations among international stakeholders will define the future of standardisation. We are proud of BIS, especially the hardworking Director General, Pramod Kumar Tiwari ji for shaping BIS into a future oriented organisation."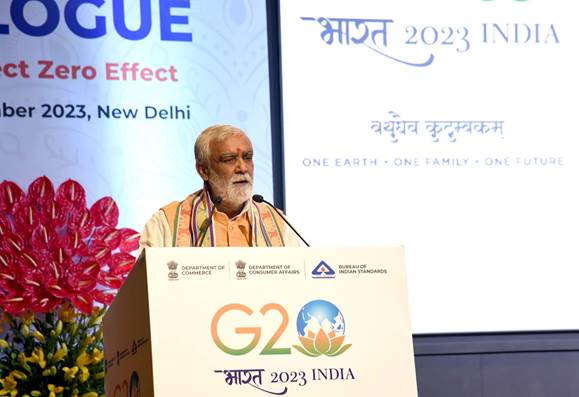 Shri Rohit Kumar Singh, Secretary Department of Consumer Affairs, GoI, while delivering the keynote address also discussed the important role that standards play in our lives, ensuring quality and facilitating global trade. Furthermore, the Secretary also mentioned that standards guide innovation, sustainability, and inclusivity for our collective future.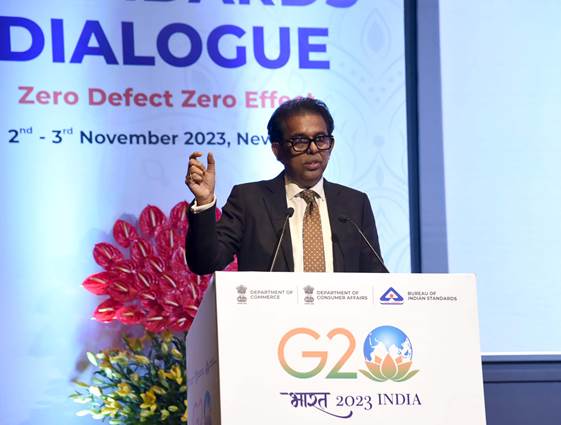 Shri Sunil Barthwal, Secretary, Department of Commerce, GoI, highlighted the importance of standards and how different countries establish their own standards. He also mentioned, "Standards are attained through determination and consistent efforts to ensure quality and reliability."
Sergio Mujica, Secretary-General, International Organisation for Standardization (ISO), participated in the event through virtual mode and highlighted the importance of standardization and increased global capabilities worldwide. He also discussed that standards benefit both the global community and businesses.
Philippe Metzger, the Secretary-General& CEO, International Electrotechnical Commission (IEC), emphasised the role of IEC and the tireless contribution of establishing and upholding the standards. "These standardized benchmarks are instrumental in shaping and governing various aspects of our daily lives" he added.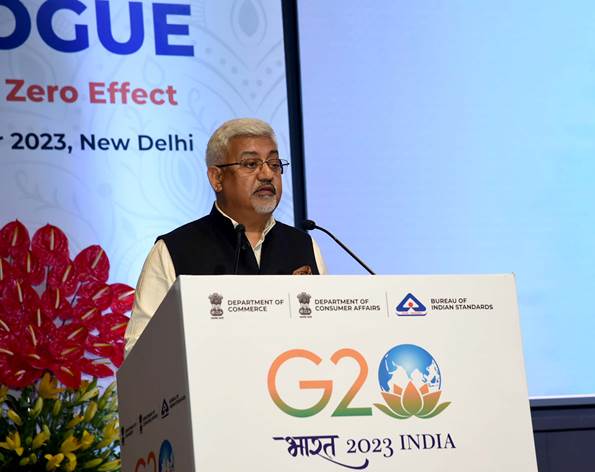 Pramod Kumar Tiwari, Director General, BIS, discussed the concept of G20 Standards Dialogue and deliberate upon the potential of standardization in facilitating productive discussions, gaining valuable insights, and addressing future challenges.
"The dialogue is engaging G20 member countries, alongside the World Standards Cooperation, consisting of the International Electrotechnical Commission (IEC), the International Organization for Standardization (ISO), and the International Telecommunication Union (ITU) to forge a path towards a more sustainable, inclusive, and regulated future, aligning with the broader vision of 'Zero Defect and Zero Effect'" stated the release.
As per BIS, the dialogue is providing a platform for industry leaders, government officials, standards professionals, regulators, and policy makers to congregate and foster advancements in standardization and global regulatory environments. It seeks to align with the G20 vision of 'One Earth, One Family, One Future' and establish a foundation of standards to make this vision a reality. With a strong emphasis on sustainability, regulatory excellence, and stakeholder engagement, the event is set to shape the standards of tomorrow.
It was also mentioned that the Dialogue opening day of the event witnessed the presence of high-ranking officials from the Government of India and the World Standards Cooperation, followed by a session on Standards for Sustainability. On Friday, November 3, there will be sessions on Technical Regulations and Good Regulatory Practices, as well as Stakeholder Engagement for Standardization, all aimed at promoting sustainable development, economic stability, and inclusive collaboration in the standardization process.
The event will conclude on 3rd November with remarks from Hon'ble Union Minister of Commerce & Industry, Consumer Affairs, Food and Public Distribution and Textile, members of G20 National Standards Bodies and invitee delegates.
*****