Government is committed to promotion of exports- Minister of State for Commerce and Industry 
Mumbai:  The Gem & Jewellery Export Promotion Council (GJEPC) has organised the first design-centric jewellery show of the calendar year 2023 – India International Jewellery Show (IIJS Signature) and India Gem & Jewellery Machinery Expo (IGJME) at the Bombay Exhibition Centre, Mumbai, from 5th to 9th January 2023.
The inauguration of IIJS Signature 2023 was graced by Minister of State for Commerce and Industry Smt. Anupriya Patel and Member of Parliament Smt. Poonam Mahajan among other dignitaries.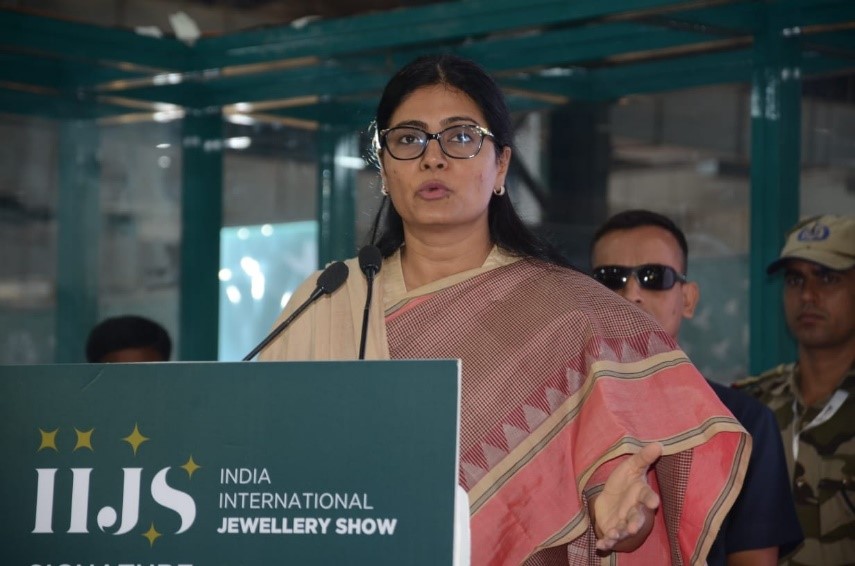 Chief Guest for the function, Minister of State for Commerce and Industry Smt. Anupriya Patel said that IIJS Signature has always had a rich legacy and this 'green' expo edition is special as it has special booth for women entrepreneurs and showcase for budding jewellery designers. "Ministry has taken several steps such as implementation of simplified regulatory framework for gems & jewellery exports through e-commerce, reduction of duties for imports of diamonds, a new gold monetisation policy and hallmarking norms. Government is committed to promotion of exports."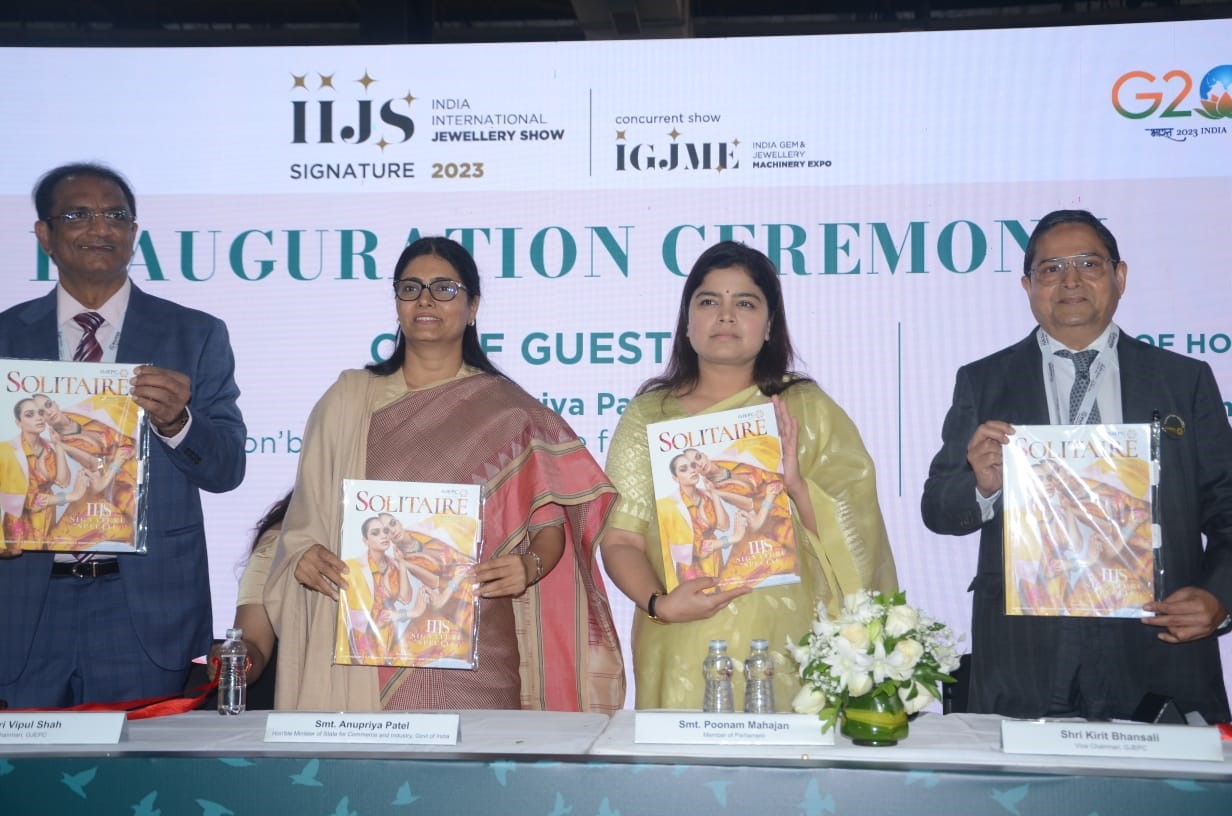 Chairman of GJEPC Mr. Vipul Shah said that India is a world leader in diamonds, gems & jewellery and GJEPC has earned the title of being the most proactive EPC in India due to several initiatives such as IIJS Signature and IGJME. "This year, the show has become bigger, better and greener than ever before. India's overall gem and jewellery exports in this year saw a growth of 8.26% as compared to last year. The last quarter of this fiscal year is very crucial as it demands a strong growth to achieve this year's target of USD 45.7 billion. Minister of Commerce & Industry, Shri Piyush Goyal operationalised FTAs with Australia under ECTA and the India UAE CEPA (in May 2022) and two more FTAs are expected this year."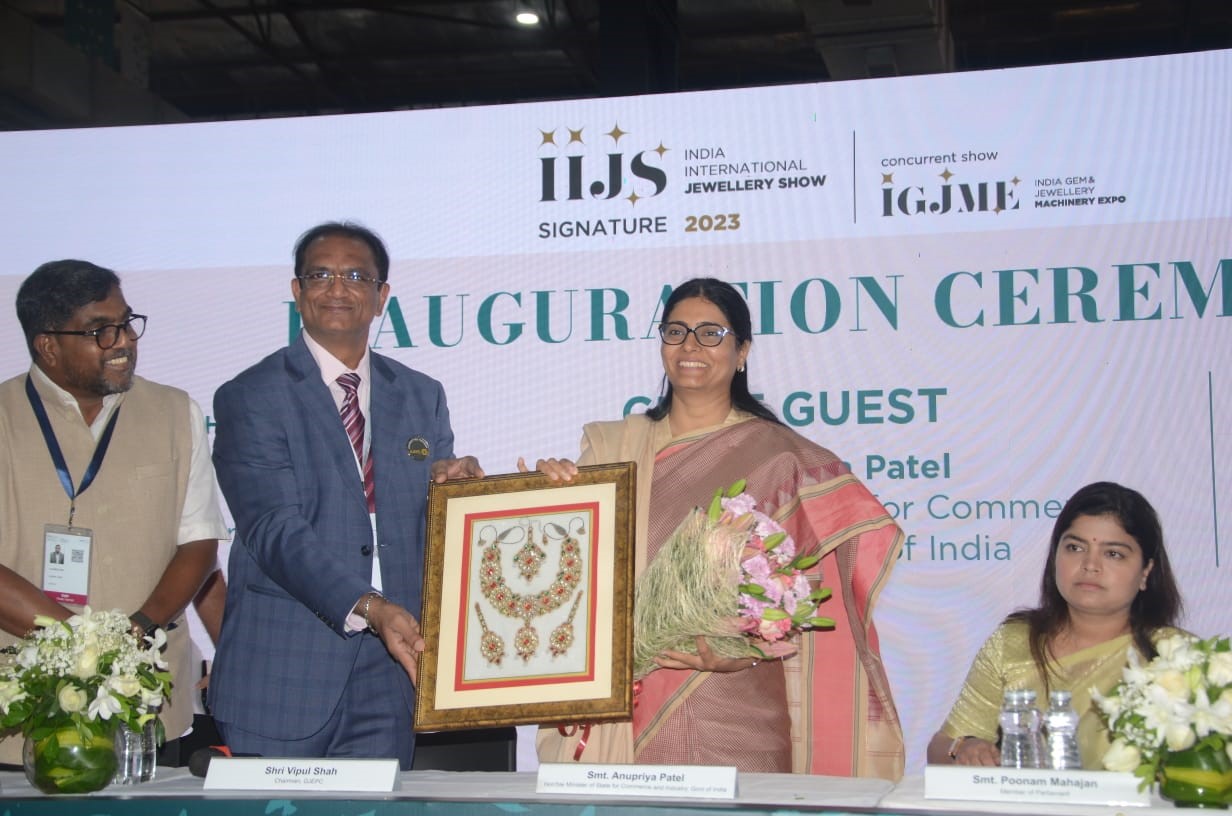 The 15th edition of IIJS Signature is spread across 65,000 sq. ft. IIJS Signature will accommodate more than 1,300 exhibitors spread over 2,400+ booths. IIJS Signature will see 32,000 visitors from 10,000 domestic companies attending the show. GJEPC has introduced a new section for lab-grown diamonds. IGJME is concurrent show with 90+ companies, 115+ booths @ Hall 7.
This year, IIJS Signature has record number of 800 foreign visitors from 600 companies from 50 countries. Delegations have come from 10 countries: U.S., Canada, United Kingdom, Malaysia, Sri Lanka, Iran, Bangladesh, Nepal, UAE, Bahrain and Russia. For the first time a delegation has come from Saudi Arabia with 18 prime buyers.
The product sections at IIJS Signature 2023 include: Gold & Gold CZ Studded Jewellery; Diamond, Gemstone & Other Studded Jewellery; Silver Jewellery, Artefacts & Gifting Items; Loose Stones; Laboratories & Education; and Lab Grown Diamond (Loose & Jewellery)
New features at IIJS Signature 2023 include: Innov8 Talks, with sessions on Experiential Marketing, Alternate Financing, etc. Innov8 LaunchPad exclusive product launch area. Innov8 Hub is a Future Tech Zone that will feature New Age App Developers, Artificial Intelligence.
GJEPC is taking all effort to make the show bigger, better and greener.  GJEPC aims to make the IIJS shows completely carbon-neutral by 2025-2026, and are taking steps in this direction. All booths at IIJS Signature are pre-fabricated to avoid any wastage. IIJS Signature will be using Tata Power Renewable Energy Ltd., which supplies power harnessed by solar and wind energy.  GJEPC is introducing "One Earth" initiative to treasure Planet Earth in association with Sankalp Taru Foundation. As part of this initiative, GJEPC aims to plant 50,000 trees in a year under this initiative.
About The Gem and Jewellery Export Promotion Council (GJEPC)
The Gem & Jewellery Export Promotion Council (GJEPC), set up by the Ministry of Commerce, Government of India (GoI) in 1966, is one of several Export Promotion Councils (EPCs) launched by the Indian Government, to boost the country's export thrust, when India's post-Independence economy began making forays in the international markets. Since 1998, the GJEPC has been granted autonomous status. The GJEPC is the apex body of the gems & jewellery industry and today represents 8500 members in the sector. With headquarters in Mumbai, GJEPC has Regional Offices in New Delhi, Kolkata, Chennai, Surat and Jaipur, all of which are major centres for the industry. It thus has a wide reach and is able to have a closer interaction with members to serve them in a direct and more meaningful manner. Over the past decades, GJEPC has emerged as one of the most active EPCs and has continuously strived to both expand its reach and depth in its promotional activities as well as widen and increase services to its members.