12th EFD concludes with adoption of the Joint Statement by Union Finance Minister of India and Chancellor of Exchequer of United Kingdom
Both countries announce the India-UK Infrastructure Finance Bridge – a collaborative initiative to leverage expertise and investment in support of India's National Infrastructure Pipeline
India and U.K. optimistic to promote financial services and investment activities in GIFT IFSC
On the sidelines of 12th EFD, Ministers also participate in India-UK Financial Partnership (IUKFP) meeting
New Delhi :- The 12th Round of Ministerial India-UK Economic and Financial Dialogue was held today in New Delhi. The Indian delegation was led by Smt. Nirmala Sitharaman, Union Minister for Finance and Corporate Affairs, and the U.K. delegation was led by Rt. Hon. Mr. Jeremy Hunt, MP, Chancellor of the Exchequer, U.K.

India and UK reiterate the commitment to deepen their collaboration on Financial Services, building on each other's strengths and supporting mutual aspirations towards financial inclusion and sustainable development. There was optimism in terms of the activities being done by India to promote financial services and investment in GIFT IFSC and UK's commitment to support the same.
The focus of the dialogue was also towards enhancement of the knowledge exchange, cooperation and support between India and UK to further the infrastructure development priorities, robust FinTech partnership and Sustainable Finance towards long-term growth objectives.
Both sides also deliberated on enhancing mutual cooperation on macroeconomic and multilateral issues. The two countries announced the India-UK Infrastructure Finance Bridge, a collaborative initiative to leverage expertise and investment in support of India's National Infrastructure Pipeline.
The Dialogue concluded with the adoption of the Joint Statement by Union Finance Minister of India and Chancellor of Exchequer of United Kingdom.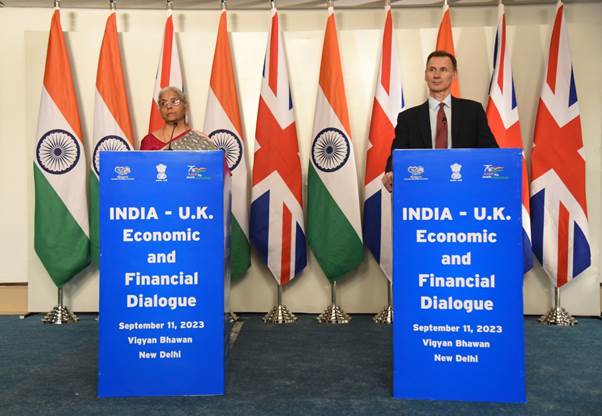 The meeting was also attended by the representatives from Ministry of Finance, Ministry of External Affairs, Reserve Bank of India, Securities and Exchange Board of India and International Financial Services Centres Authority. with representatives from UK Treasury, Bank of England and the Financial Conduct Authority.
At the sidelines of the Dialogue, the Ministers also participated in the India-UK Financial Partnership (IUKFP) meeting co-chaired by Mr. Uday Kotak and Mr. Bill Winters. The participants included key business leaders from India and UK as well as the representatives from financial regulators from both countries.  The IUKFP meeting, inter alia, held discussions on policy papers as well as ideas for deeper financial exchange and collaboration between the two countries.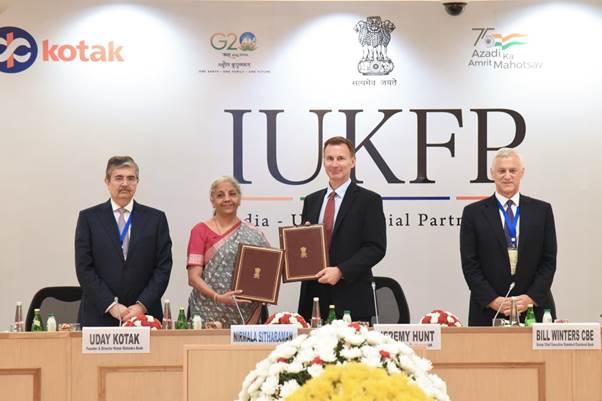 Annexure:
****