Government is committed to ensure effective and efficient operations of CPSEs; Review provides valuable insights into their performance, says Dr. Mahendra Nath Pandey
MHI supporting CPSEs for reducing carbon footprint; FGD systems to reduce emissions installed by CCI
Advanced Ultra Supercritical technology for increasing the efficiency of thermal power plants to produce more power from less coal developed by BHEL with the support of MHI
New Delhi :- Ministry of Heavy Industries (MHI) organized a conference on Annual Performance Review of Central Public Sector Enterprises (CPSEs) at Vigyan Bhawan, here today. This review is part of the Ministry's ongoing efforts to evaluate the efficacy of CPSEs towards fulfilling their core objectives. The conference was attended by Minister of State for Heavy Industries, Shri Krishan pal Gurjar, CMDs of the CPSEs under the Ministry and senior officials of MHI.
Delivering his keynote address on the occasion, Union Heavy Industries Minister, Dr. Mahendra Nath Pandey said, "The annual performance review is an important tool for assessing the progress and achievements of our CPSEs. We are committed to ensuring that these enterprises are operating effectively and efficiently, and this review provides valuable insights into their performance." He further stated that Ministry of Heavy Industries has the responsibility of realizing the dreams of the Prime Minister Narendra Modi in the field of engineering and Automotive Sector. India is among the five largest economies of the world today. Prime Minister has set a target of making it among the top three economies in the next few years and heavy industries can play a big role towards this objective, he added.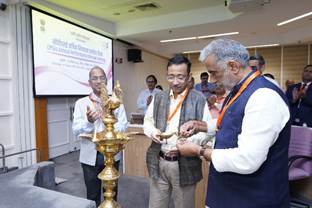 The work area of the MHI  mainly includes Automotive Sector, engineering, heavy electrical and capital goods sectors. As far as CPSEs under MHI are concerned, it is a vast field of work ranging from household salt, tea, watches, cement, paper making to infrastructure projects. BHEL, one of the Maharatnas, under MHI works in the field of Power Sector, Transportation, Defence and Space.
MHI is also supporting CPSEs in its quest to reduce its carbon footprint. On one hand, companies like Cement Corporation (India) Limited (CCI) have installed FGD systems to reduce emissions and Bharat Heavy Electrical Limited (BHEL) with the support of MHI has developed Advanced Ultra Supercritical (AUSC) technology for increasing the efficiency of thermal power plants which will produce more power from less coal, playing vital role in the country's energy security.
The performance review was conducted using the Memorandum of Understanding (MoU) evaluation system, which reflects a company's performance in relation to its stated goals and objectives. The MoU evaluation has helped CPSEs focus on achieving results, and has enabled them to better align their efforts with the Nation's priorities.
The results of the review will be used in informed decision-making in future and strategic planning for the CPSEs including diversification. By regularly evaluating their performance, the Ministry is able to identify areas where improvements can be made and take timely action to address any issues that arise.
In addition to evaluating their performance, the Ministry also works closely with CPSEs to support their growth and development. This includes providing guidance and support on key issues such as indigenization, in line with the Prime Minister's vision of 'Atma Nirbhar Bharat' and support for India in becoming a global manufacturing hub.
The Prime Minister's mantra for CPSEs, "Perform, Reform & Transform," serves as a reminder of this goal. By focusing on performance, reforms where necessary, and transforming their operations, CPSEs can continue to play a vital role in supporting India's economic growth and development.
During the event, CMDs of following CPSEs under Ministry of Heavy Industries gave presentations on 'MoU Performance and Way Forward':
● Bharat Heavy Electricals Ltd. (BHEL)
● Bridge & Roof Co. Ltd. (B&R)
● Engineering Projects (India) Ltd. (EPIL)
● Braithwaite Burn & Jessop Construction Co. Ltd. (BBJ) ● Andrew Yule & Co. Ltd. (AYCL)
● Heavy Engineering Corporation Ltd. (HEC)
● Cement Corporation of India Ltd. (CCI)
● HMT Ltd. (HMT)
● HMT (International) Ltd.
● HMT Machine Tools Ltd.
● Hindustan Salts Ltd. (HSL)
● Sambhar Salts Ltd. (SSL)
● Rajasthan Electronics & Instruments Ltd. (REIL)
● Instrumentation Ltd. (IL)
● NEPA Ltd.
****