Approximately Rs. 1,17,09,095 revenue earned after disposing of scrap and redundant materials till date
Out of 97 MoPSW has conducted 94 cleanliness campaigns
The Ministry of Ports, Shipping and Waterways has been conducting the Special Campaign 3.0. The main focus areas of the Campaign include effective disposal of public grievances, references from Members of Parliament, Parliament assurances, cleanliness drive in the workplace and around the premise, disposal of scrap and weeding out of files.
Till date out of 24,215 physical files 24,023 files have been reviewed; 6,847 files were identified for weeding out of which 1,857 files have been weeded; total number of 13,848 E-files were put up for review out of which 1,012 have been reviewed and 7,538 have been closed. More than 50 tweets on X (formerly known as Twitter), Facebook and Instagram have been posted by the official social media handles of the Ministry and its Autonomous Bodies to promote campaign awareness.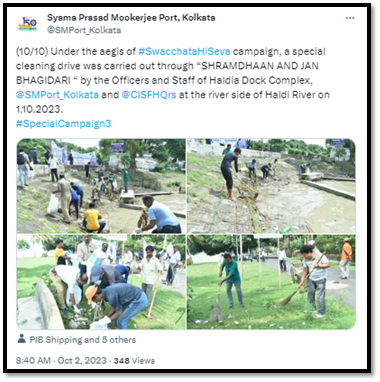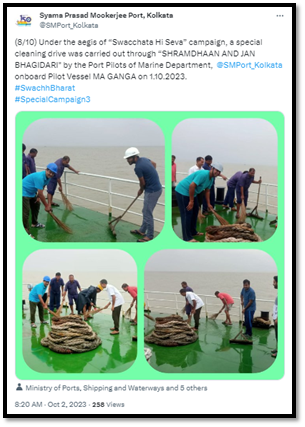 The cleanliness campaign is in full swing and has been conducted at 94 sites out of 97. An area of 1,421 Square Feet space has been freed till now. The Ministry has earned a revenue of Rs. 1,17,09,095 by scrap disposal. Out of 91 Public Grievances Targets 90 have been addressed; PMO References 6 achieved out of 9; References from MPs Targets 59 of which 47 have been achieved; Parliamentary Assurance Targets were 42 of which 37 have been achieved; All 4 IMC References (Cabinet Proposals) target and all 7 State Govt. Reference targets have been achieved.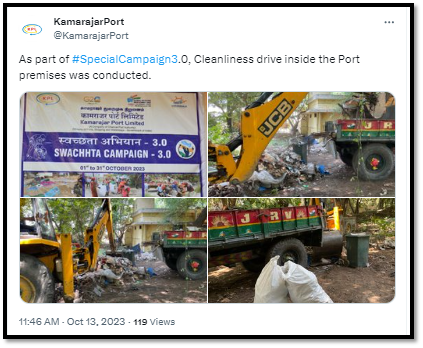 The initiatives commenced with a preparatory phase on 15 September 2023, aimed at identifying specific targets to be taken up for cleaning for the main phase of the campaign, which is being conducted from 2nd October 2023 to 31st October 2023.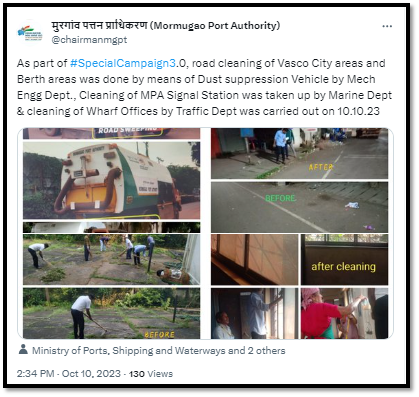 ****