Programs Organized in 3800 Blocks Across the Nation
Soil Collected from Every Corner of the Country to be Ceremoniously Placed in Amrit Vatika and Amrit Mahotsav Memorial at Kartavya Path, Creating A Legacy to Commemorate Azadi Ka Amrit Mahotsav
"Meri Maati Mera Desh " (MMMD) campaign is entering its last phase with Amrit Kalash Yatras nationwide. This pan India outreach initiative aims to reach every household in the country. In a significant collaborative effort, multiple Ministries, State governments, Nehru Yuva Kendra Sangathan, Zonal Cultural Centers, Central Armed Police Forces, Indian Post, Miety, and Coal, are actively engaged in the monumental task of collecting soil from every household in villages and block levels. This joint initiative underscores their dedication to achieving this ambitious goal, showcasing their commitment to community service and nation-building. The Ministry of Culture's zonal culture centers are organizing cultural programs in rural areas across the nation to create awareness about the campaign and for better outreach. More than 3800 blocks have already organized the Meri Matti Mera Desh program and participation of masses has been overwhelming.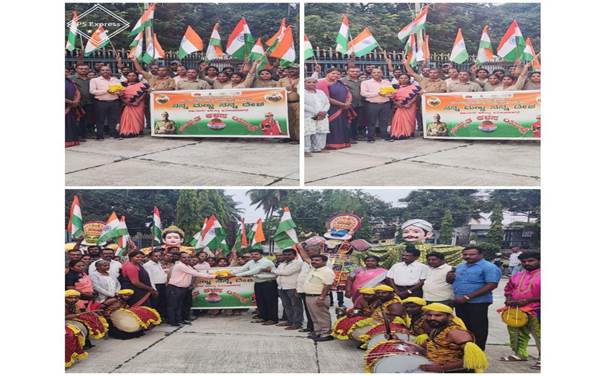 Meri Maati Mera Desh Taluk level event at Mandya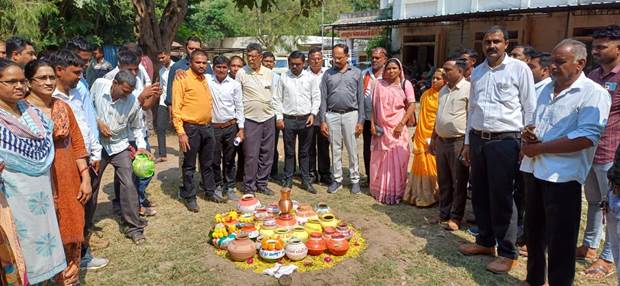 Kadana Block, Gujarat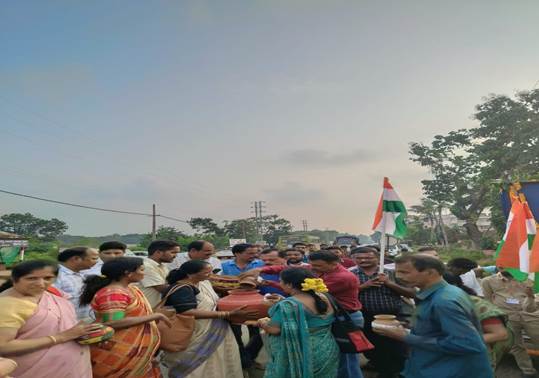 Kumta, Karwar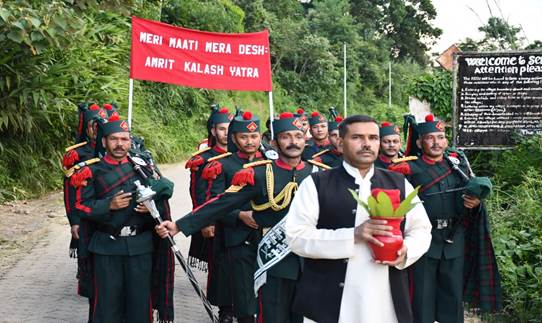 Assam Rifles handed over Kalash to DC Longding District in Arunachal Pradesh
The nationwide campaign "Meri Maati Mera Desh" was launched on August 9, 2023 to honor the courageous individuals, known as 'Veers,' who sacrificed their lives for the nation. This initiative marks the conclusion of the 'Azadi ka Amrit Mahotsav,' which commenced on March 12, 2021, and witnessed extensive public engagement (Jan Bhagidari) through the organization of over 200,000 programs across India. The initial phase of the Meri Maati Mera Desh campaign has achieved remarkable success, with widespread outreach and significant public involvement. To date, more than 233,000 Shilaphalakams have been constructed across 36 States/UTs. Additionally, nearly 40 million selfies with the Panch Pran pledge have been uploaded on the website. The campaign has organized over 200,000 felicitation programs honoring Bravehearts nationwide. Under the Vasudha Vandan theme, over 236 million indigenous saplings have been planted, and 263,000 Amrit Vatikas have been created.
The Amrit Kalash Yatras will reach its pinnacle at Kartavya Path in a grand ceremony on October 30th and 31st, 2023. During this nationwide initiative's grand culmination, a monumental Kalash, symbolizing the unity and diversity of our nation, will be placed for blending soil collected from every corner of the country and ceremoniously positioned in the Amrit Vatika and Amrit Mahotsav Memorial. This extraordinary celebration will be enriched with vibrant cultural programs and captivating light and sound shows, offering attendees a rich sensory experience. Specially curated experience zones will allow participants to deeply engage with the essence of this historic campaign, appreciating the collective spirit of the nation and establishing a profound and enduring legacy to honor the Azadi Ka Amrit Mahotsav.
****