So far 818 officers from Maldives imparted training including 29 officers of ACC, Maldives
DG  V. Srinivas urges civil servants to embrace digital technology for better delivery of services.
Effective team spirit and mutual sharing of knowledge essential for ensuring improvement in life of people
Maldives :- The 2-week Capacity Building Programme (CBP) for civil servants of Maldives organised by the National Centre for Good Governance (NCGG) in partnership with the Ministry of External Affairs (MEA) concluded 4th August, 2023 today at New Delhi. NCGG has signed MoU with the Government of Maldives to enhance the skills and capabilities of 1,000 civil servants in the field of public administration and governance by 2024. As part of the agreement, NCGG has already imparted training to 818 officers from Maldives which includes 29 officers of ACC, Maldives.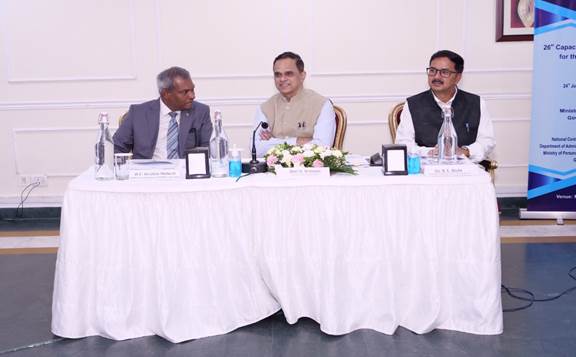 NCGG's efforts are aligned with Prime Minister Narendra Modi's governance mantra of ''minimum government, maximum governance'' and keeping citizens at the forefront while designing developmental strategies and implementing public policies. It is in this context that these programmes reinforce the principles of citizen centric governance and promote the exchange of knowledge, information and innovations and promote the adoption of best practices and digital governance. It is also an effort in the direction of strengthening bilateral ties and fostering regional cooperation with neighbouring countries.
The valedictory session was presided over by Shri V. Srinivas, Director General, National Centre for Good Governance. He requested the participating officers to make full use of the exposure that they had during the programme and take advantage of the opportunity and urged to share knowledge and work in groups as effective team building is essential to foster good ideas which can be utilized to improve the quality of life of citizens. He stressed the importance of harnessing the programme's maximum potential and learning from best practices, which can be modified to suit their own contextual settings.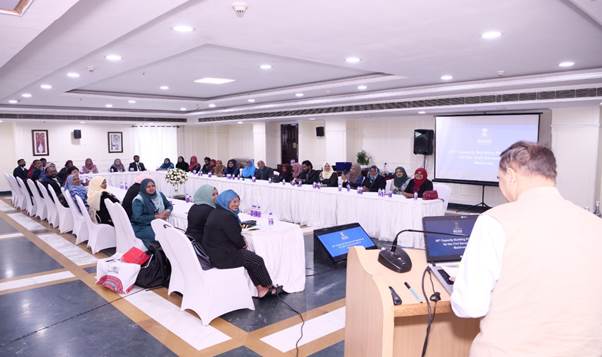 He emphasized the pressing requirement for civil servants to fully capitalize on the digital revolution and embrace the latest IT innovations, thereby advancing digital governance citing effective use in the health sector, which enabled India to successfully tackle the covid 19 pandemic and providing better and timely health services to the people. The DG motivated the participating officers to identify a few significant learnings from this programme that they can adapt and modify to suit the requirements of their work environments. He complimented the officers for making excellent presentations showcasing the learning they have taken from the programme.
The valedictory ceremony was also graced by H.E. Shri Ibrahim Shaheeb, High Commissioner of Republic of Maldives who thanked Government of India for the support provided for capacity building of its officers and appreciated the effective and proactive participation of officers from Maldives. He was extremely happy to see the elaborate and wonderful presentations of the participating officers on "digitisation of schools in Maldives " and digitisation of hospital services in Maldives " as part of learning outcomes of the programme.  He urged them to stay connected and work together for betterment of their country.
Giving the overview of the programme, Dr. B. S. Bisht, course coordinator said that in the 26th capacity building programme, NCGG shared various initiatives taken in the country.  such as changing paradigm of governance, centralised public grievances redressal and monitoring system, India Maldives relations, Aadhar: a tool of good governance, implementation of public policies, ethics in administration, behavioural insights in public policy making, gender and development, total quality management, disaster management, Government e-marketplace, Smart City development, best practices from various development schemes, low cost desalination for drinking water, Climate Change, tourism, e-governance and digital India UMANG, leadership, coordination and communication, health care governance, sanitation and public health behaviour, circular economy, skill India, anti-corruption strategies among others.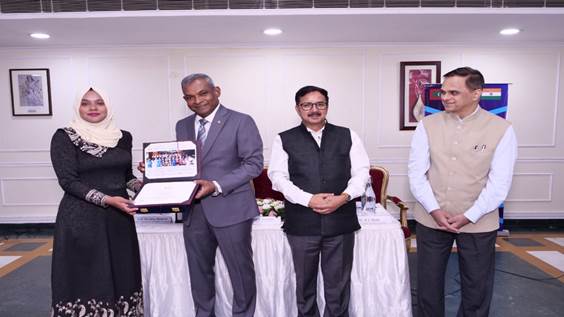 The participants were also exposed to visits aimed at observing a diverse range of developmental projects and institutions. These visits offer them invaluable insights and first-hand experiences of prominent initiatives and organizations, including but not limited to the Smart City, Dehradun, Pradhanmantri Sanghralaya, AIIMS among others.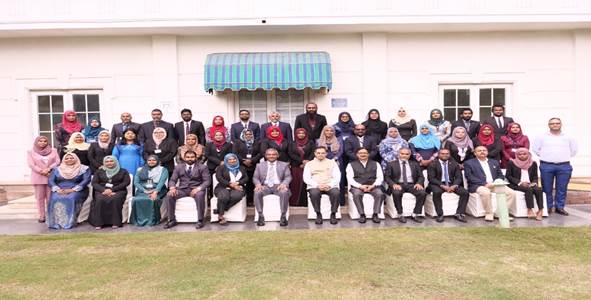 The overall supervision and coordination of the 26th capacity building programme was carried out by Dr. B. S. Bisht, course coordinator for Maldives, along with Dr. Sanjeev Sharma, co-course coordinator, and the capacity building team of the NCGG.
<><><><><>