New Delhi :- 
PM flags of Viksit Bharat Sankalp Yatra to ensure that  benefits of flagships schemes reach targeted beneficiaries in a time-bound manner 
President, Vice President and Speaker pay tribute to Bhagwan Birsa Munda at Parliament House
Prime Minister  launches PM- Jan Man Mission for development of most Vulnerable Tribal Groups
Women Power, Tribal Welfare, and Development Pillars Emphasized as PM Modi Commits to a Developed India
Pan-India celebrations marked the Jan Jatiya Gaurav Divas on 15th November 2023 to pay tributes to Bhagwan Birsa Munda on his birth anniversary. The day is also dedicated to the memory of brave tribal freedom fighters so that coming generations could know about their sacrifices about the country.
The Jan Jatiya Gaurav Divas celebrations were led by the President, Smt. Draupadi Murmu;  Prime Minister Sh. Narendra Modi;  Vice President Sh. Jagdeep Dhankar, and Speaker Sh. OM Birla. Celebratory events were attended by 6 CMs, 22 Governors, 7 Ministers from Central Government and several MPs, Ministers and MLAs from state Governments who joined virtually with the PM's event at Khunti, Jharkhand. Tribal Research Institutes, Eklavya Model Residential Schools, Centres of Excellence, Central ministries, State Tribal Welfare Departments and other partner organisations organised several events across the country to mark the Janjatiya Gaurav Divas.
The occasion also coincided with the launch of nationwide 'Viksit Bharat Sankalp Yatra'. The Prime Minister flagged off IEC (Information, Education and Communication) vans in Khunti, Jharkhand, marking the launch of 'Viksit Bharat Sankalp Yatra'. The Yatra started from Gram Panchayats of  68 districts with significant tribal populations initially and then will cover all Gram panchayats across the country.  The main objective behind the yatra is to attain saturation of flagship schemes of the government by ensuring that the benefits of these schemes reach all targeted beneficiaries in a time-bound manner.  In tribal areas, 5 area of focus would be Sickle Cell testing, awareness and enrolment in Eklavya Model Residential Schools and Scholarship Schemes.  The livelihood of tribal communities will also be ensured through coverage of  Forest Right Titles and Van Dhan Vikas Kendra Self Help Groups are also being addressed.  The events were also organised at more than 200 Gram Panchayats.
Smt Droupadi Murmu, paid floral tributes to Bhagwan Birsa Munda on his birth anniversary on November 15, 2023 at Parliament House. Vice President Sh. Jagdeep Dhankar,  OM Birla, Minister Smt Meenakshi Lekhi and several MPs also paid floral tributes to Bhagwan Birsa.   The President was given a traditional welcome by tribal dancers wearing colourful dresses playing tribal music instruments.
The President conveyed her wishes on 'the occasion of Janjatiya Gaurav Diwas' through a recorded audio visual message, which was displayed at mega event at Khunti which was attended by Prime Minister Sh. Narendra Modi; Union Minister of Tribal Affairs Sh.Arjun Munda; Governor of Jharkhand Sh. C. P. Radha Krishanan; Chief Minister of Jharkhand Sh. Hemat Soren, and MoS, Education Smt Annapurna Devi, as well as ex-CM Sh. Babulal Marandi, and several MLAs from Khunti .  The message of the President was displayed at more than 100 locations in different states and UTs.
During the public program at Khunti, the Prime Minister launched PM JANMAN (PM- Janjati Adivasi Nyaya Maha Abhiyan) and inaugurated several development projects in the state. PM also flagged off  'Viksit Bharat Sankalp Yatra'. About 50,000 persons from Khunti and neighbouring districts attended the mega event.
Prime Minister, started the day by visiting Bhagwan Birsa Munda Tribal Freedom Fighter Museum in Ranchi, Jharkhand. He paid floral tributes at the statute of Bhagwan Birsa Munda and paid tribute to other 10 tribal freedom fighters whose statues have been installed in the museum. The museum was earlier a jail where Birsa Munda was imprisoned (Karakaksh). In the museum, PM  visited Karakaksh,  Chalchitra kaksh and replica of Ulihatu village curated inside the museum.
PM , thereafter visited Ulihatu Village in Jharkhand, the birthplace of Bhagwan Birsa Munda, which is about 60 km from Ranchi. He paid   floral tribute at his statue and had interacted with descendants of Bhagwan Birsa and Birsayat community members, the followers, of Bhagwan Birsa. Shri Modi became the first Prime Minister to visit Ulihatu Village.  Sh.  Arjun Munda,  Sh. Hemat Soren, and Sh. C. P. Radha Krishnan accompanied him during his visit to Ranchi museum and Ulihatu.
The PM JANMAN (PM- Janjati Adivasi Nyaya Maha Abhiyan) is aimed at comprehensive development of 75 vulnerable tribal communities residing in 18 states and 1 UT who continue to lag behind in socio economic indicators of educational, health and livelihood and therefore called Particularly Vulnerable Tribal groups (PVTGs). The population of these communities is about 28 lakh and are living in about 22000 habitations in more than 800 blocks located in 200 districts.   Even after 75 years of independence various development schemes of Central and State Government have not been able to adequately address the critical infrastructure needs of the villages and habitations of these communities being located in remote areas and with sparse population.
The PM also launched the portal on PM Gatishatki Platform which will used for reaching out and monitoring the progress and outcomes of the PM-JANMAN.
https://www.youtube.com/watch?v=MfgQyBtTYLc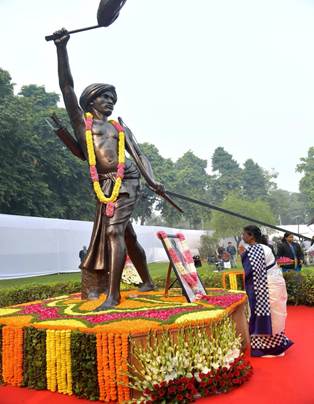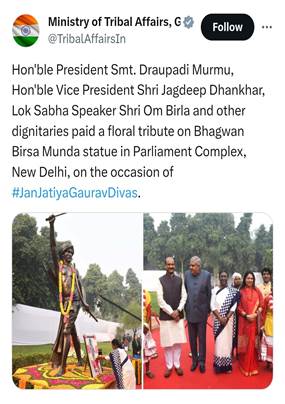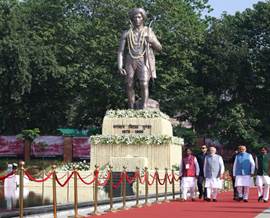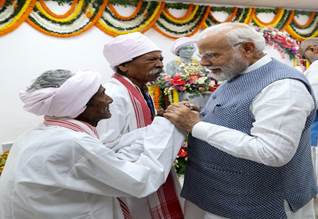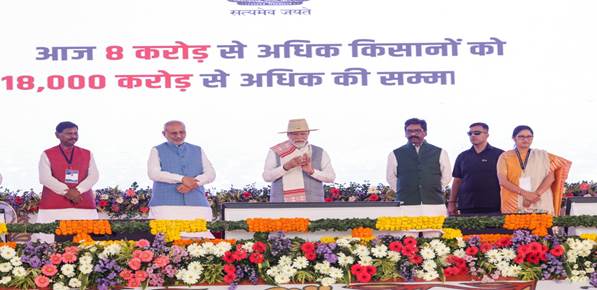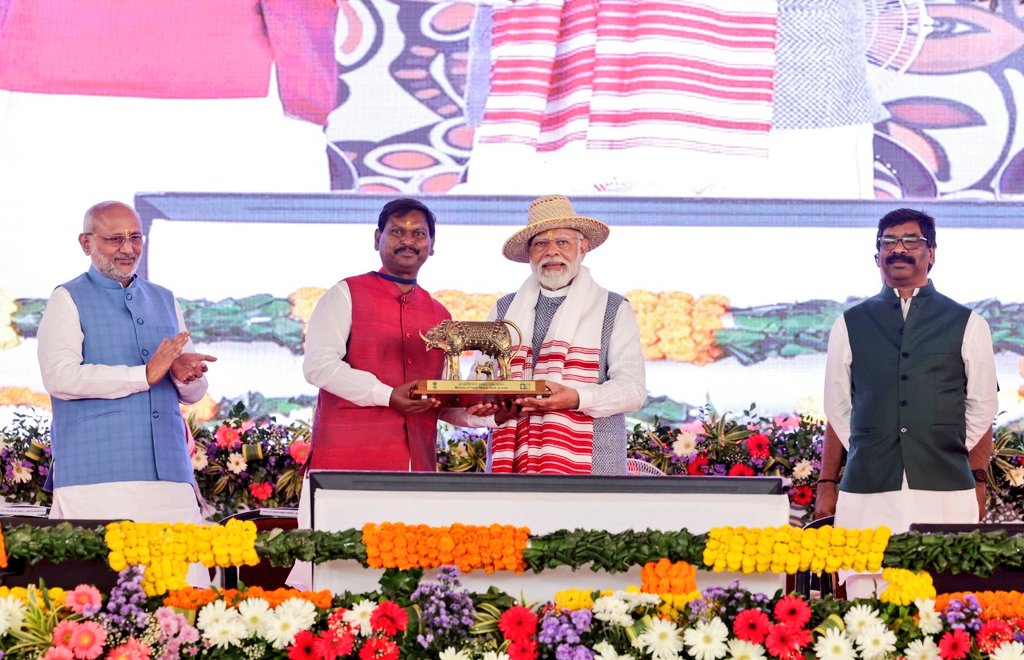 While remembering sacrifices of our tribal heros, PM mentioned their role in freedom movement in different parts of country.  PM said that many tribal heroes remained unsung in last 75years and how the sacrifices made by them were remembered during Azadi ka  Amrit Mahotsav.
Shri Modi stressed the importance of focusing on the four 'Amrit Stambhs of Viksit Bharat' – women power, farmers, youth, and India's neo-middle class and the poor. Discussing PM JANMAN, the Prime Minister highlighted the government's commitment to connect the lives of tribal communities and primitive tribes. Expressing gratitude to President Droupadi Murmu for her commitment to tribal community development, the Prime Minister emphasized the significance of women-led development. He highlighted various schemes empowering women, such as Beti Bachao Beti Padhao, PM Awas Yojana, and initiatives supporting self-help groups. PM spoke about PM Vishwakarma Yojana, demonstrating the government's commitment to harnessing the potential of every individual, with an allocation of 13 thousand crore rupees for modern training and tools.
Pl click here for full press release
In his remarks at the event in Khunti, Sh Arjun Munda said that it  is a historic moment since Sh Narendra Modi  is the first Prime Minister of the country who has come to Ullihatu village, the birthplace of Bhagwan Birsa Munda, who sacrificed his life for the country, and paid tributes to the freedom fighter. Expressing his gratitude to the Prime Minister, the Minister added that the celebration of 15th November as Jan Jatiya Gaurav Divas has opened  a new chapter in history. Sh Arjun Munda said that  it is a momentous occasion since  Viksit Bharat Sankalp Yatra is beginning on 15th November  which will go from village to village, to towns and various localities to reach out to the people and create awareness. It will focus on providing benefits of welfare schemes like access to LPG cylinder, housing for the poor, food security, proper nutrition, reliable healthcare, clean drinking water, sanitation facilities, essential financial services, electricity connections etc.
Addressing further, Sh Arjun Munda said that the Prime Minister has also initiated a Rs 24,000 cr scheme , PM-JANMAN , for 75 Particularly Vulnerable Tribal Groups (PVTGs)which is unprecedented. He also expressed his gratitude for projects worth Rs 7200 crore to the people of Jharkhand.
PM-JANMAN
In the Budget of 2023-24, Government had announced that to improve socio-economic conditions of the Particularly Vulnerable Tribal Groups (PVTGs), Pradhan Mantri PVTG Development Mission will be launched. This will saturate PVTG households and habitations with basic facilities such as safe housing, clean drinking water and sanitation, improved access to education, health and nutrition, road and telecom connectivity, and sustainable livelihood opportunities.  Thereafter, Ministry of Tribal Affairs with the help of State Government through a survey conducted on a mobile app developed by BISAG-N; prepared database of gaps with regard to Infrastructure in these areas.  The Mission will be comprising 11 critical interventions through 9 Ministries including MoTA. The related schemes/programmes of the Ministries/ Departments will be aligned with the objective of the Mission.  The total estimated outlay of the Mission has been worked out to be about ₹24000 for 3 years.
The core infrastructural requirements of targeted PVTG villages / habitations and households are provision of pucca houses and Road connectivity through Pradhan Mantri Awas Yojana – Gramin (PMAY-G) and Pradhan Mantri Gramin Sadak Yojna (PMGSY) of Ministry of Rural Development.  The provision of safe drinking water in PVTG habitations will be met through Jal Jeevan Mission (JJM) of Ministry of Jal Shakti.  The National Health Mission of Ministry of Health & Family Welfare,  Samagra Shiksha Abhiyan of Ministry of Education, POSHAN Abhiyan of Ministry of Women & Child Development  will take all efforts to improve education, health and nutritional facilities in these areas including provision of Ayushman card, Institutional delivery and immunisation.  The Household electrification of unelectrified left out house-holds will be provided through Revamped Development Sector Scheme (RDSS) of Ministry of Power  or through Solar Power Scheme  of Ministry of New & Renewable Energy along with provision of solar lighting in streets and multi purpose centres.   Van Dhan Kendras (VDVKs) under Pradhan Mantri Janjatiya Vikas Mission (PMJVM) and Multipurpose centre will be set up for providing sustainable livelihood. Unconnected habitations will be targeted for telecom connectivity through installation of mobile towers under Universal Service Obligation Fund (USOF) of Ministry of Communications.  In addition, saturation will be ensured for PMJAY, Sickle Cell Disease Elimination, TB Elimination, 100% immunization, PM Surakshit Matritva Yojana, PM Matru Vandana Yojana, PM Poshan, PM Jan Dhan Yojana etc.
Bhagwan Birsa Munda Tribal Freedom Fighter Museum 
On the call of PM from Red Fort in August 2016, the more than 150 old heritage building at Ranchi, which was a prison where Birsa Munda , has was conserved and restored as a Freedom Fighter museum with joint efforts of Central and State Government. Spead over 25 acres, the museum has several tourist attractions including Mesmerising Light and sound show is organised on the lines of Andaman Jail and an audio visual movie of about 20 minutes shown in 3 gallaries (Chalchitra Kaksh) showing different phases of life of Bhagwan Birsa from birth to death.   The Ulihatu village has been recreated in the outer lawn of the museum.  The museum also has a 25 feet statue of Bhagwan Birsa Munda. Along with this, the museum also highlights 9 feet statues of other freedom fighters associated with different movements such as Shahid Budhu Bhagat, Sidhu-Kanhu, Nilambar-Pitambar, Diwa-Kisun, Telanga Khadiya, Gaya Munda, Jatra Bhagat, Poto H, Bhagirath Manjhi, Ganga Narayan Singh.  Smriti Udyan has been developed in neighbouring 25 acres and has musical fountain, food court, children park, infinity pool, garden and other entertainment facilities.  This museum was inaugurated by  PM on 15th November 2021, the first Janjatiya Gaurav Divas.
 Janjatiya Gaurav Divas
Since 2021 Janjatiya Gaurav Divas is celebrated across country with zeal and enthusiasm to honour and remember the sacrifices of tribal freedom fighters.  India's freedom struggle was strengthened by several movements led by tribal communities such as Santhals, Tamars, Kols, Bhils, Khasis and Mizos to name a few. The revolutionary movements and struggles organized by the tribal communities were marked by their immense courage and supreme sacrifice. Tribal movements in different regions of the country against the British colonial rule got linked with the national freedom struggle and inspired Indians all over the country. However, the public at large was not much aware about these tribal heroes. To make the coming generations aware about their sacrifices to the country, Government has declared 15th November as Janjatiya Gaurav Divas, when the country was celebrating Azadi ka Amrit Mahotsav, 75 year of Indian Independence.   The date is the birth anniversary of Sri Birsa Munda who is revered as Bhagwan by tribal communities across the country. Birsa Munda fought bravely against the country against the exploitative system of the British colonial system and spearheaded movement against British oppression giving a call for 'Ulgulan' (Revolution). The declaration acknowledges the glorious history and cultural heritage of tribal communities. Various events and activities are organized across the country fostering a sense of unity and pride by showing diversity of rich cultural heritage and contributions of tribal communities to the nation's history.  This was the 3rd year, when various events having cultural performances, exhibitions, and discussions are organised to promote awareness and appreciation for the unique traditions and customs of India's tribal population across country. Last year , President had visited Ulihatu village in Jharkhand, the birth place of Bhagwan Birsa Munda and Vice President had paid floral tribute in Parliament house in Delhi.
****