New Delhi :- 
The President calls Education as key to economic and social well-being; advises parents to educate their children
Over the next three years, Government to recruit 38,800 teachers and support staff for 740 Eklavya Model Schools dedicated to 3.5 lakh tribal community students: Shri Arjun Munda
The President of India, Smt. Droupadi Murmu, inaugurated an Eklavya Model Residential School (EMRS) at Kuliana, Mayurbhanj, Odisha yesterday. The event took place in the presence of Union Minister for Tribal Affairs, Shri Arjun Munda. A budget of Rs. 38 crores has been sanctioned by the Ministry of Tribal Affairs for the school, which is being constructed by Hindustan Steel Construction Ltd (HSCL), a public sector enterprise under Ministry of Housing and Urban Affairs.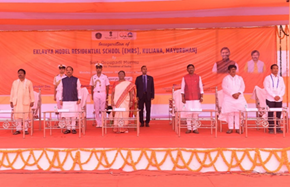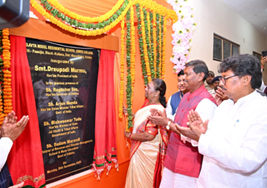 Speaking on the occasion, the President said that during her childhood there was no school near her home, therefore, she had to go away from home for study. She said that many children were deprived of education at that time due to non-availability of a nearby school, which is not the case today. She expressed confidence that with the opening of the Eklavya Model Residential Schools, local children will now have more opportunity for education.
Smt. Murmu said that she also comes from a humble background like them and she got the opportunity to serve the citizens of the country, because of her education. She told the children that education can make them successful, as being an educated person, they can contribute to the progress of the country and society along with their own development. The President said that education is the key to economic and social well-being, and advised parents to educate their children.
The President said that the Government of India has started multi-pronged schemes through various ministries to provide railways, national highways, education, health and other such basic amenities in tribal dominated areas. She was happy to note that more than 700 Eklavya Model Residential Schools are being established across the country for education of tribal children. She said that in these schools more than 3.5 lakh tribal students across India will be able to get quality education and be able to contribute to the development of society and nation.
Addressing the gathering, Union Minister for Tribal Affairs, Shri Arjun Munda said that Eklavya Model Residential School is an ambitious scheme of the Government of India and the Prime Minister has been particularly concerned about it. For years, qualitative education has not reached the tribal people living in remote villages.  Therefore, by improving the already existing scheme of EMRS and giving it a new shape, we restructured it to provide quality education on the lines of Navodaya Vidyalaya.  Before 2014, there were 240 students per EMRS, now 480 students are studying in a school.  The Center is recruiting 38,800 teachers and support staff, over the next three years, for 740 Eklavya Model Schools dedicated to 3.5 lakh tribal community students.
Eklavya Residential Model School is a flagship scheme of Government of India for imparting quality education to the tribal students. In 2019, under the visionary leadership of Prime Minister Shri Narendra Modi, 452 new EMRSs were sanctioned, one in every tribal block with 50% or more ST population and 20,000. The National Education Society for Tribal Students (NESTS), under the Ministry of Tribal Affairs, is implementing this scheme. The recurring cost per student has been enhanced from Rs. 61,000 to Rs. 1,09,000 in 2019. Later in 2022, the construction cost of EMRS was enhanced from Rs. 20 crores and Rs. 24 crores to Rs 38 crores and 48 crores in plain areas and hilly areas, respectively. With 288 schools sanctioned before 2019 under the old scheme, Ministry of Tribal Affairs would be setting up total 740 schools by March 2026, including construction of 452 schools approved in 2019.
In Odisha, total 114 schools are to be constructed, of which 106 have been sanctioned. Of these 114 schools, 27 schools are under the old scheme and 87 schools under the new scheme. At 8 locations, the process of provision of land is under process. As on date 32 locations schools are functional and buildings of 31 schools are complete, including 4 under the new scheme. Out of 87 new EMRS sanctioned in Odisha, Mayurbhanj district alone has got 19 schools one in every block, which is the largest for any district in India. In the last two years, in coordination with the State Government, the construction work at 48 places in Odisha.
The Kuliana EMRS campus is constructed in about 12 acres of land. It will be having 16 class rooms for 480 students comprising of 240 girls and 240 boys. There are separate boys' and girls' hostels, mess, residential accommodation for Principal, teaching and non-teaching staff, administrative block, playground, computer and science laboratories. These schools will prove to be a milestone for the overall development of tribal students of this area.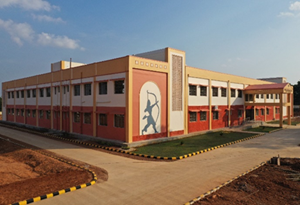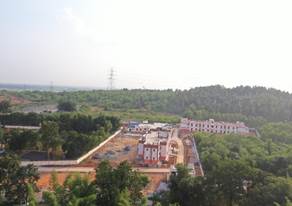 Other dignitaries present during the occasion included Hon. Governor of Odisha, Shri Raghubar Das, Union Minister Minister of State for Tribal Affairs and Jal Shakti, Shri Bishweswar Tudu, among other senior dignitaries from Union and State Governments.
Figures at a glance- All India
Scheme/Intervention
2013-14
2023-24
Budget Outlay
Rs. 278.76 Crore

(As a component under Article 275 (1) of Constitution

Rs. 4000 Crores

(Separate Central Sector Scheme)

Sanctioned Schools
167
694
Functional Schools
119
401
Recurring Cost
Rs. 42,000 per student per annum
Rs. 1,09,000 per student per annum
Capital Cost
Rs. 12.00 crore (Plain)

Rs. 16 crores (Hilly, NE, LWE)

Rs. 37.80 crore (plain),

Rs. 48 crore (Hilly, NE, LWE)

Schools affiliated to CBSE
69
277
Enrolments
34365
113275
*****