1.5 LAKH AYUSHMAN BHARAT- HEALTH & WELLNESS CENTRES SET UP BEFORE 31ST DECEMBER 2022, LEADING TO STRENGTHENING OF PRIMARY HEALTHCARE
NOTABLE ENHANCEMENT IN HUMAN RESOURCES, CORE BUILDING BLOCKS OF THE HEALTH SYSTEM
New Delhi. : The Economic Survey 2022-23 tabled by Smt Nirmala Sitharaman, Union Minister for Finance and Corporate Affairs has centre staged primary health care and termed public health infrastructure as 'the nerve centre of the public health system', forming the basic support system for the last-mile delivery of public health services.  Healthcare infrastructure has been acknowledged as an important indicator for understanding the healthcare delivery provisions and welfare mechanisms in a country.
The Economic Survey highlights the recent health sector reforms that have led to a strengthened health infrastructure in the public sector. This is amply reflected in rise in the number of Sub-centres (SCs), Primary Health Centres (PHCs), and Community Health Centres (CHCs) in rural areas. Under the Ayushman Bharat programme, 1.5 lakh Health & Wellness Centres (HWCs) have been made operational before 31st December, 2022.  These deliver comprehensive Primary Healthcare services closer to the communities.
        Rural healthcare system in India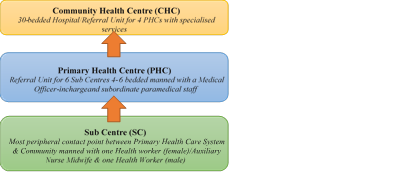 Progress in Health Infrastructure
The Economic Survey 2023 also underlines the notable enhancement in human resources which are the core building blocks of the health system. These include physicians, nursing professionals, pharmacists, midwives, dentists, allied health professionals, community health workers, social health workers and other health care providers, as well as health management and support personnel.
| | | | | | |
| --- | --- | --- | --- | --- | --- |
| Indicators | 2014 | 2019 | 2020 | 2021 | 2022 |
| Sub-centres (SCs) | 152.3 | 157.4 | 155.4 | 156.1 | 157.9 |
| Primary Health Centres (PHCs) | 25.0 | 24.9 | 24.9 | 25.1 | 24.9 |
| Community Health Centres (CHCs) | 5.4 | 5.3 | 5.2 | 5.5 | 5.5 |
| Doctors at PHCs | 27.4 | 29.8 | 28.5 | 31.7 | 30.6 |
| Total Specialists at CHCs | 4.1 | 3.9 | 5.0 | 4.4 | 4.5 |
| Auxiliary Nurse Midwife at SCs & PHCs | 213.4 | 234.2 | 212.6 | 214.8 | 207.6 |
| Nursing Staff at PHCs & CHCs | 63.9 | 81.0 | 71.8 | 79.0 | 79.9 |
| Pharmacists at PHCs & CHCs | 22.7 | 26.2 | 25.8 | 28.5 | 27.1 |
| Lab Technicians at PHCs & CHCs | 16.7 | 18.7 | 19.9 | 22.7 | 22.8 |