New Delhi :- In order to enhance financial literacy among school students, the Reserve Bank of India (RBI) organised third zonal level round of the All-India Quiz on Financial Literacy that saw the participation of state level winners of Delhi, Jammu & Kashmir, Ladakh, Uttarakhand and Uttar Pradesh, here today.
The quiz was first organised at the block level and then district and state levels in which students of class VIII, IX and X of government schools were encouraged to participate to generate more interest in the area of financial literacy and awareness.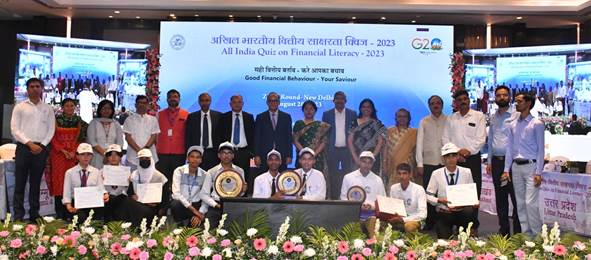 Overall, for the states/UTs coming under the zone, approximately 10,264 students from 5,132 schools participated from the block level. The zonal level at Delhi witnessed the participation of ASOSE, Sector 10, Dwarka, Delhi, Government Higher Secondary School, Patushai, Sogam, Kupwara, J&K, Government Higher Secondary School, Sumoor, Leh, Ladakh, AUGIC, Rudrapur, Uttarakhand and Government Inter College, Fursatganj, Amethi, Uttar Pradesh.  Shri Aman Gupta & Shri Utkarsh Sudhakar from ASOSE, Sector 10, Dwarka, Delhi emerged as the winners and were felicitated by Shri Deepak Kumar, Executive Director, RBI, and other dignitaries present at the prize distribution ceremony. The winners will get to compete in the All-India Quiz on Financial Literacy at the National level.
Financial literacy supports the pursuit of financial inclusion by empowering the customers to make informed choices leading to their financial well-being. Financial inclusion in turn is meant to make financial services available, accessible and affordable to all in a safe and transparent manner. While pursuing policies for furthering financial inclusion, RBI has also been simultaneously taking steps to promote financial literacy and consumer protection. Towards a vision of creating a financially aware and empowered India, RBI along with other stakeholders framed the National Strategy for Financial Education (NSFE) for 2020-25 focusing on building on areas of content, capacity, community, communication and collaboration. The NSFE document intends to support the vision of the Government of India and Financial Sector Regulators by enabling various sections of the population to develop knowledge, skills, attitude and behaviour which are needed to manage their money better and to plan for their future.
Such initiatives have the intention of making children interested in financial literacy, which is becoming more of a life skill for participating in modern society. Children are growing up in an increasingly complex world and a financial world where technological changes also occur at a fast pace, which will require children to take charge of their own financial future as they move to adulthood and navigate jobs and livelihood opportunities.
****