Industry, academia and policy-makers have to work together and make skill development a Janandolan- Shri Dharmendra Pradhan
Union Minister for Education and Skill Development & Entrepreneurship, Shri Dharmendra Pradhan launched the IndiaSkills 2023-24 and felicitated the World Skills 2022 Winners today at an event held at Kaushal Bhawan, New Delhi. India has secured 11th position in the global competition, the best-ever ranking so far. A short video depicting the journey of World Skills 2022 was also shown in the programme. Some of the winners also shared their experiences in the competition.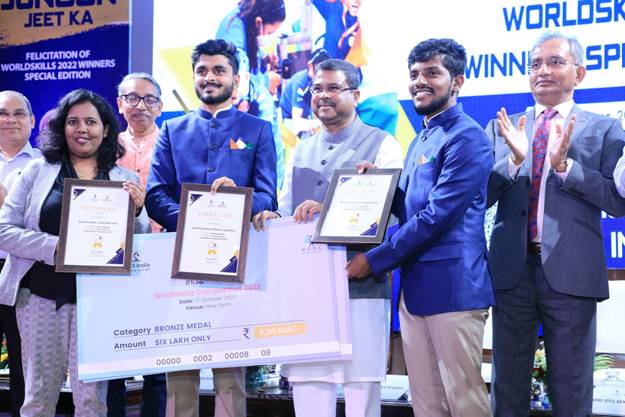 Secretary, Ministry of Skill Development and Entrepreneurship, Shri Atul Kumar Tiwari; Chairman, AICTE, Prof. T. G. Sitharam; Chairman, UGC, Prof. M. Jagadesh Kumar; Additional Secretary, Ministry of Skill Development and Entrepreneurship, Shri Krishna Kumar Dwivedi; CEO, NSDC & MD, Shri Ved Mani Tiwari; Additional Secretary/Director General (Training), Ms. Trishaljit Sethi; Head, WorldSkill India, Dr. Maneesh Mishra; officials, dignitaries and students were also present in the function.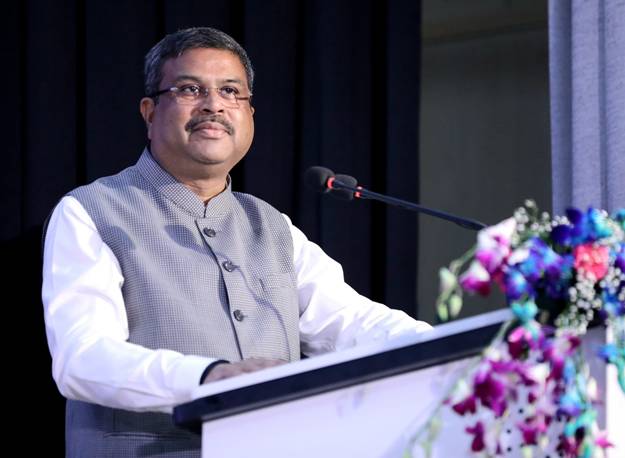 While addressing the event, Shri Pradhan reminded everyone of Prime Minister Shri Narendra Modi's call for enhancing competency over acquiring degrees alone. He also highlighted the importance of introducing employable skills, which will increase market acceptance of the workforce. He stressed that we have to give equal importance to competencies, applied knowledge and hands-on training to lead in the 21st century.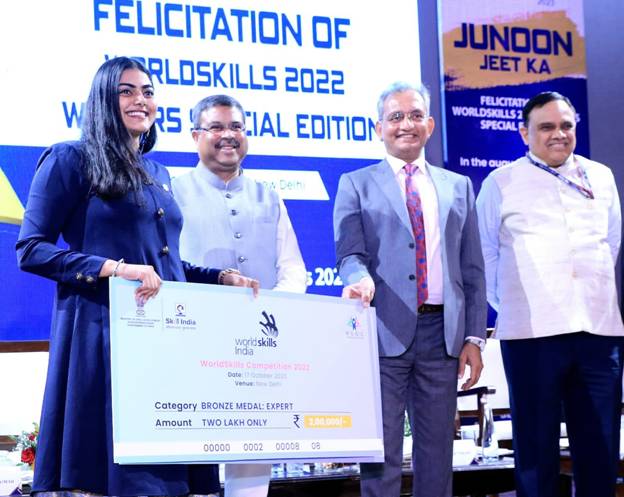 Shri Pradhan also highlighted the need for mapping skill gaps to reduce the gap between degrees earned and skills acquired. He mentioned how NEP 2020 has taken steps to introduce a blended model by merging degree and competency, making it flexible and as per the choice of the students.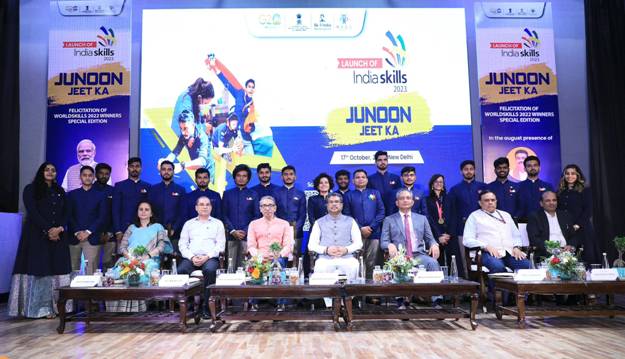 He also urged policymakers, academia, and industry to come together, making it a Janandolan to make India a developed nation by 2047, as envisioned by Prime Minister Shri Narendra Modi. The blending of learning and earning leads to skill development, he highlighted.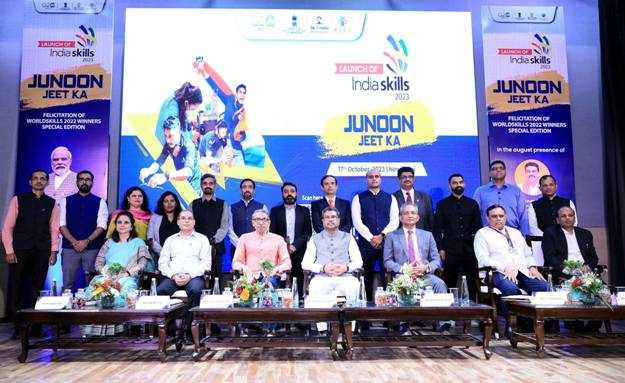 WorldSkills Competition is the largest skill competition in the world, held once every two years. It is conducted by WorldSkills International, which has 86 member countries. These competitions provide both a benchmark for high performance and an objective way to assess vocational excellence. The duration of the competition duration is 4 days spanning 16 to 22 hours.
WorldSkills competition 2022 was conducted from September to November 2022 across Europe, North America, and East Asia comprising over 1,000 competitors from 58 countries in 61 skills. The competition was hosted by 15 countries in more than 20 cities. India participated in 50 skills and secured 11th position with 2 Silver Medals, 3 Bronze Medals and 13 Medallions for Excellence at the WSC 2022, its best ranking so far at the WorldSkills Competition. Indian Competitors, who represented the country at WorldSkills Competition 2022, were selected via IndiaSkills Competition 2021.
A total of 165 IndiaSkills National Competition winners were trained for the WorldSkills Competition at designated training venues developed in line with WorldSkills standards under the mentorship of WorldSkills India Experts and trainers. More than 200 Industry and Academic Partners like Toyota Kirloskar, Mahindra, Saint Gobain, Larsen & Toubro, Maruti Suzuki, Infosys, IIT-Palakkad, Government Tool Room and Training Centre, National Institute of Fashion Technology, Lincoln Electric, CISCO, BMW, Volkswagen, Berger Paints and others collaborated to train India's competitors, sponsoring approximately Rs. 20 Crore in terms of training infrastructure, subject matter expertise, international training, raw material and tool kits.
Fifty-six competitors, 50 Experts and 11 Interpreters participated among which 19% were female (11 competitors). Some of the competitors also participated in new-age skills like Robot System Integration, Additive Manufacturing, Industry 4.0, Digital Construction, Mobile Application Development and Renewable Energy.
Winners' details:
Sl. No
Skill
Name
Medal at WorldSkills Comp 2022
1
Water Technology
Praveen Giri
Silver
2
Patisserie & confectionary
Nandita Saxena
Silver
3
Prototype Modelling
Likith Kumar YP
Bronze
4
Mechatronics
Karthik Gowda
Bronze
Akhilesh N
5
Hotel Reception
Anushree Srinivasan
Bronze
6
Graphic design technology
Steven Harris
Medallion for Excellence
7
Bakery
Pratham Sharma
Medallion for Excellence
8
3d Digital gaming Art
Abhinav Verma
Medallion for Excellence
9
Information Network Cabling
Vaisakh
Medallion for Excellence
10
Web Technologies
Advaith
Medallion for Excellence
11
Jewellery
Subasis Paul
Medallion for Excellence
12
Autobody Repair
Sonu Lather
Medallion for Excellence
13
Mobile Robotics
Mohammad Siyad
Medallion for Excellence
Mohammad Faisal
14
Health and Social Care
Saraswathy PV
Medallion for Excellence
15
Fashion Technology
Divejya
Medallion for Excellence
16
Hairdressing
Charmi Sen
Medallion for Excellence
17
Restaurant Services
Subrat Patel
Medallion for Excellence
18
Automobile Technology
Mohammad Salman
Medallion for Excellence
***