New Delhi :- 
Shri Aggarwal announced 1% interest rate rebate to divyangjan borrowers under NDFDC loan for timely repayment, subject to specific terms and conditions
Secretary, DEPwD also handed over cheques to 8 Divyang Loan Beneficiaries
Shri Rajesh Aggarwal, Secretary, Department of Empowerment of Persons with Disabilities under Ministry of Social Justice and Empowerment, Government of India today unveiled a ground breaking initiative to support divyang borrowers.
In a bid to further enhance financial inclusion and foster economic empowerment among the divyangjan, Shri Aggarwal announced 1% interest rate rebate under NDFDC loan for timely repayment, subject to specific terms and conditions. This gesture is aimed at reducing the financial burden on divyang individuals seeking financial assistance and encouraging responsible repayment practices.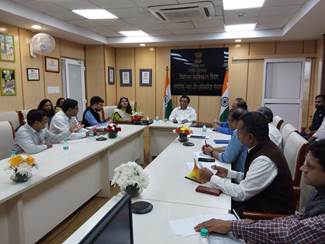 Cheques were given by Shri Rajesh Aggarwal, Secretary of the Department of Empowerment of Persons with Disabilities to 8 divyang loan beneficiaries. This step reflects the government's unwavering commitment to promoting inclusivity and ensuring that every citizen, irrespective of abilities, has equal access to financial opportunities.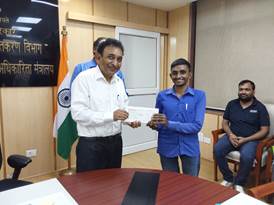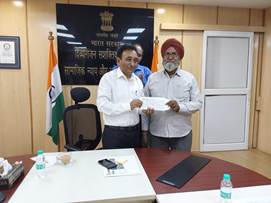 The rebate under NDFDC, while serving as a Diwali gift to the divyang borrowers, underscores the government's broader mission to uplift and empower every section of society. NDFDC of DEPwD remains steadfast in its commitment to facilitating the financial well-being of persons with disabilities and contributing to a more equitable society.
****