Interactive meeting held with Pensioners' Welfare Associations and State Bank of India at Bengaluru on 4th November, 2023.
Pensioners laud the Face Authentication Technique for submission of Life Certificates
To enhance 'Ease of Living' of Central Government pensioners, Department of Pension & Pensioners' Welfare has been promoting Digital Life Certificate (DLC) i.e. Jeevan Pramaan extensively. In 2014, submission of DLCs using biometric devices was commenced. Subsequently, the Department engaged with MeitY and UIDAI to develop a Face Authentication technology system based on Aadhar database, whereby it is possible to submit LC from any Android based smart phone. As per this facility, the identity of a person is established through face authentication technique and DLC gets generated. This breakthrough technology, launched in November 2021, reduced the dependence of pensioners on external bio-metric devices and made the process more accessible and affordable to masses by leveraging smartphone-based technology.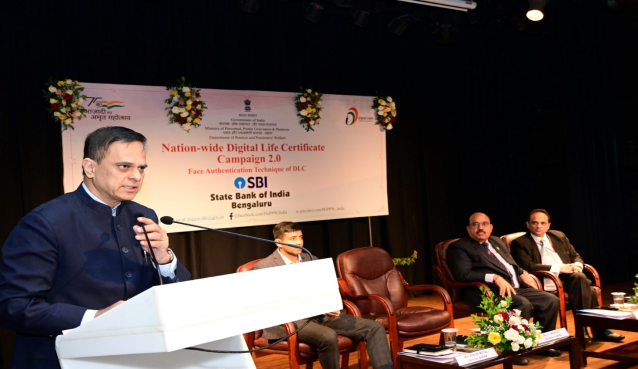 With a view to spread awareness amongst all the Central Government pensioners as well as the Pension Disbursing Authorities for use of DLC/Face Authentication technology to submit Digital Life Certificate, Department of Pension & Pensioners' Welfare launched a nation-wide campaign in the month of November 2022 in 37 cities through-out the country. The Campaign was a huge success with more than 35 lakh DLCs of Central Government Pensioner issued. A Nation-wide Campaign is now being held from 1st to 30th November, 2023 in 500 locations in 100 cities across the country, targeting 50 lakh pensioners in collaboration of 17 Pension disbursing banks, Ministries/ Departments, Pensioners' Welfare Association, UIDAI, MeitY.
As part of the Campaign, DLC camps are being organized in Bengaluru in coordination with State Bank of India and Canara Bank. The Camps are being held at various locations in the city, viz., I.S.R.O, Nal Bengaluru, Yelhanka New Town, Air Force Station Yelhanka and Hesarghatta by SBI and at Vijayanagar-II, Basaveshwara, Hanumanth nagar, Malleshwaram and Rajajinagar-II Block DPCD by Canara Bank. A team from UIDAI is also attending the Camps to assist pensioners for updation of their Aadhaar records, where ever required and also to take care of any technical issues.
A team from DoPPW, under the Chairmanship of Shri V. Srinivas, Secretary (Pensions), visited Bengaluru on 4th November for reviewing campaign progress and for an interactive meeting with Bank officials, pensioners and representatives of three registered Pensioners' Associations, viz., The Karnataka Central Government Pensioners' Association, Karnataka Posts and Telecommunications' Pensioners' Association and All India BSNL Pensioners Welfare Association.
Secretary (P&PW) addressed the pensioners and informed the pensioners about the initiatives of the Department towards enhancing 'Ease of Living' of pensioners. The present Campaign is one such initiative to ensure that the technique of using Face Authentication for DLC submission reaches pensioners in the remotest areas, to enable them to understand and use the technique from the comfort of their homes. He exhorted bankers and pensioners to make this Nationwide Digital Life Certificate Campaign into a people's movement.
Shri Krishna Sharma, CGM, State Bank of India, Bengaluru Circle addressed the participants and informed that the Bank would provide all support to ensure success of the Campaign which would benefit the pensioners in the Bengaluru Circle. A help desk would be setup in every SBI branch.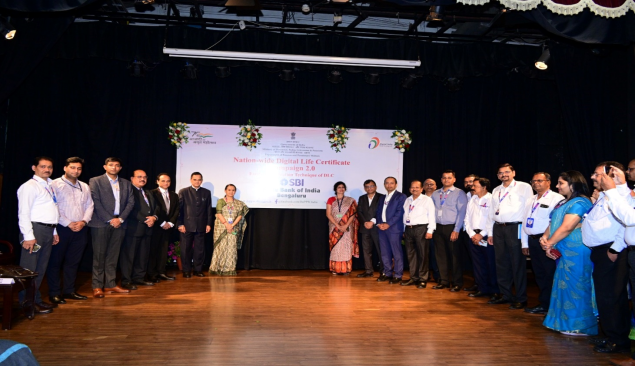 The representatives of the Pensioners Associations informed that the development of Digital Life Certificates was a huge step towards making life easy for pensioners, particularly the old, disabled and those hospitalized. Through use of the Face Technique, they were able to successfully generate Life Certificate of such pensioners by visiting their homes, hospitals and through holding DLC Camps.
 More than 400 pensioners attended the meeting and expressed their immense satisfaction at the development of the path breaking technique which is now being used extensively bringing comfort to the pensioners.
The Department of Pension and Pensioners' Welfare will be putting all efforts to make this Campaign a grand success throughout the country.
<><><><><>