Ministry has freed 1050 sq. Ft. of Area by Disposing of Scrap
ASI Carrying Out Cleanliness Drive at 400 Sites Nationwide including Monuments & World Heritage Site
During second week of Implementation Phase of Special Swachhata Campaign 3.0, Ministry of Culture (MoC) along with its Attached, Subordinate and Autonomous Organizations is actively carrying out all identified activities regularly with an objective to minimize the pendency and institutionalizing Swachhata.
The cumulative achievements of the Ministry during this period are given below. Further, Ministry has freed aprox.1050 Sq. Ft. of area by disposing of scrap and generated revenue of Rs.3,57,999. Besides, 2058 Physical files and 80 files out of 15,969 physical files & 2133 E-files, respectively, have been reviewed and closed.
| | | | |
| --- | --- | --- | --- |
| S.No. | Items | Target | Achievements |
| 1. | MP References | 176 | 31 |
| 2 | PMO References | 33 | 9 |
| 3 | State Government References | 28 | 4 |
| 4 | Parliamentary Assurance | 41 | 1 |
| 5 | Public Grievances | 412 | 82 |
| 6 | Public Grievances Appeals | 465 | 21 |
Best Initiatives: As part of best initiatives some of the Organisations under MoC have undertaken the following initiatives:-
Anthropological Survey of India (AnSI), Regional Office, Jadgalpur has set up a vibrant "Tree House" with the help of local tribal youths for promoting sustainability and creativity.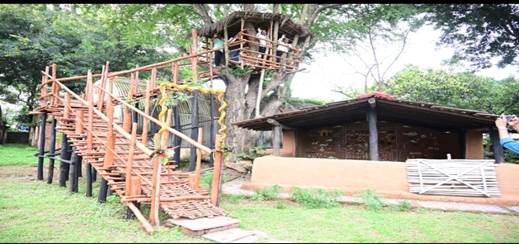 Eastern Zonal Cultural Centre(EZCC), Kolkata has also organized a workshop 'Waste to Wonder' on the theme of "Garbage Free India" at Srijani Shilpagram, Shanti Nikentan, West Bengal during Special Campaign 3.0.  A Sculpture of Goddess Maa Durga has been crafted using broken and discarded waste materials.  An attempt has been made to spread the message of destroying demon like plastic in public.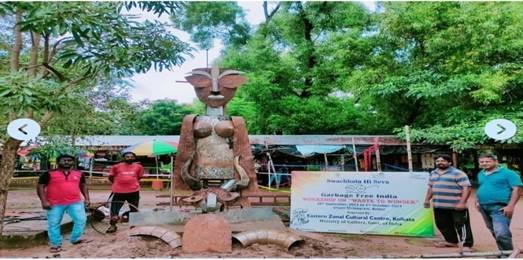 (Sculpture of Goddess Maa Durga crafted with waste material)
National Council of Science Museums (NCSM), has created an amusing sculpture of a deer crafted from waste materials like plywood board, lightbulb-holder and wires as a part of 'Waste to Art' creations.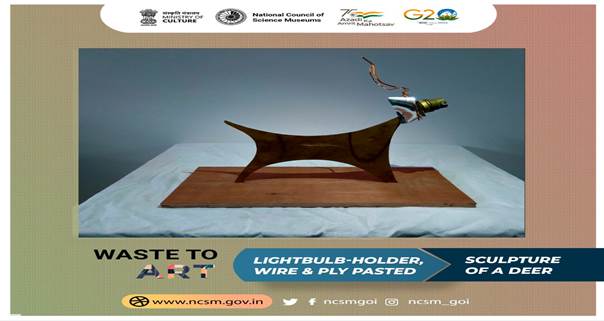 Archaeological Survey of India (ASI) is also carrying out cleanliness drive enthusiastically at 400 sites out of 449 sites identified by Ministry including Monuments & 25 World Heritage Sites.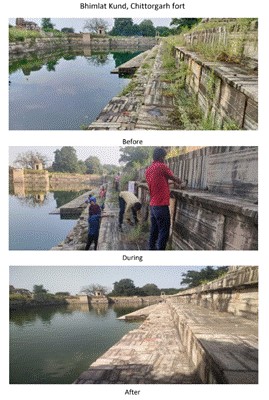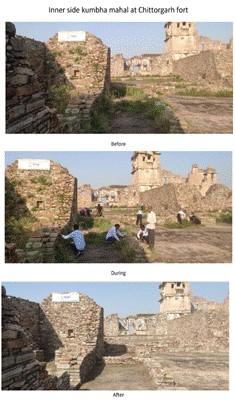 (Cleanliness drive conducted at sites of Chittorgarh Fort, a UNESCO, World Heritage Site)
National Archive of India(NAI) has planned to launch a Mass Conservation Drive to provide restorative conservation of approx 2.25 crore pages of records in its collections. This requires a working space for 1,000 conservators who would work in two shifts of 500 hundred persons each.   Besides, an Orientation Course in Record Management is scheduled to be held from 18th to 20th October,2023 during the Special Campaign 3.0 period involving of Group 'B' & above and equivalent level officers from various Ministries/Departments, Attached/Subordinate Offices and PSUs etc.
Daily progress is being monitored and uploaded on the SCDPM portal at https://scdpm.nic.in.
***