Role of the corporate world in managing resources should be that of trusteeship: President Murmu
Government initiative helped remove 39,000 unnecessary compliances along with 1,500 archaic laws to promote Ease of Doing Business: Union Finance and Corporate Affairs Minister
The President of India, Smt Droupadi Murmu graced the 55th foundation day celebrations of the Institute of Company Secretaries of India (ICSI) in New Delhi yesterday. Union Minister of Finance and Corporate Affairs Smt. Nirmala Sitharaman, was also present on the occasion.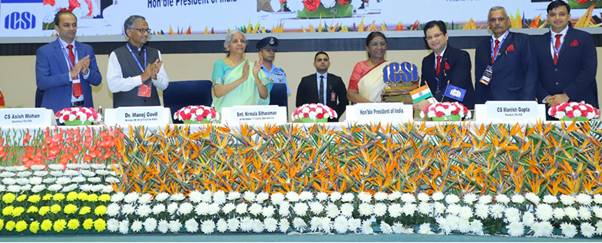 Speaking on the occasion, the President said that Company Secretaries should remember that their loyalty is not only to perform the legal work as an officer or professional of a company, but their duty is also towards every citizen of the country who has been left behind in the developmental journey. She emphasised that the role of the corporate world in managing resources should be that of trusteeship. She said that the spirit of service should be their basic mantra. She urged them to move forward on the path of good corporate governance while remembering Gandhiji's Talisman "Remember the face of the poorest and most helpless man". She said that their goal should be "prosperity with human dignity".
The President said that three sins out of seven sins mentioned by Gandhiji are – wealth without work; knowledge without character; and commerce without ethics. She stated that the lessons related to these three sins should always be guiding lights for the Company Secretaries. She said that "Ethics in Business" is more important than "Business Ethics". She stated that as a vigilant watchdog of corporate governance, Company Secretaries have to take care that the legal provisions meant to increase ease of doing business are not misused.
The President said that today, India is scaling new heights. Be it economic or social development, we are moving towards becoming a leading nation. In such scenario, it becomes more important that our professionals are not only qualified and competent, but also courageous and creative. She stated that the future of India's corporate governance depends on willpower and actions of Company Secretaries. They can make India a role model of 'Good Corporate Governance' as well as of 'Good Governance'. (READ FULL RELEASE: https://pib.gov.in/PressReleasePage.aspx?PRID=1964301)
In her address as Guest of Honour, Union Minister of Finance and Corporate Affairs Smt. Nirmala Sitharaman, said, "As many as 39,000 unnecessary compliances have all been removed, along with 1,500 archaic laws with the help of various initiatives taken by the Government to promote Ease of Doing Business (EoDB), including decriminalisation of minor offences, introduction of the Insolvency and Bankruptcy Code, simplification of regulatory frameworks, tax reforms, and removal of unnecessary and archaic compliance/laws."
Referring to the reforms undertaken by the Government since 2014, Smt. Sitharaman said, "The expertise and professionalism of Company Secretaries is helping build an ecosystem that has facilitated $230 billion worth of investments in the country in the last three years."
Smt. Sitharaman appreciated the ICSI's decision to waive off registration fee for Agniveer, defence personnel and families of martyrs for enrolment in company secretaries' course.
Additionally, the ICSI also handed over a cheque of Rs. 11 Lakh to the Union Minister for Finance and Corporate Affairs as a contribution to the education of Martyrs' daughters under the Shaheed Ki Beti initiative of the ICSI.
In his address, Shri Manoj Govil, Secretary, Ministry of Corporate Affairs (MCA) said, "Company Secretaries are the foremost compliance officers and play a significant role in strengthening the Governance framework of the country. India Inc looks at Company Secretaries for their valuable advice."
In his welcome address, CS Manish Gupta, president, ICSI, highlighted the initiatives of the ICSI towards nation-building and elaborated on the achievements of 55 glorious years and assured of the ICSI's continuous concerted efforts in building a robust governance culture in the country.
CS B. Narasimhan, vice-president, ICSI, CS Suresh Pandey, council Member, The ICSI and Programme Director, and CS Asish Mohan, Secretary, The ICSI   also addressed the gathering on the occasion.
****