The intention is to provide a language-neutral, level playing field to all the aspiring candidates, says Dr Jitendra Singh
Addressing the Valedictory Session of 'Bharatiya Bhasha Utsav and Technology & Bharatiya Bhasha Summit' in New Delhi, Dr Jitendra Singh said, JEE, NEET and UGC exams are also being conducted in 12 Indian Languages
Notable progress made in the last more than nine years under PM Modi to promote the Indian regional languages besides Hindi, says Dr Jitendra Singh
"PM Modi took a historic decision in the new National Education Policy by giving importance to the mother tongue of students in Primary, Technical and Medical education": Dr Jitendra Singh
Journey of Indian Languages in the AmritKaal of next 25 years will truly usher in the Celebrations of Indian Languages in 2047, which PM described as "Bhartiya Bhasaon Ka Utsav": Dr Jitendra Singh
PM Modi has paved the way for India to emerge as a Developed Nation in the next 24 years of AmritKaal, says Dr Jitendra Singh
New Delhi. : Union Minister of State (Independent Charge) Science & Technology; MoS PMO, Personnel, Public Grievances, Pensions, Space and Atomic Energy, Dr Jitendra Singh today said that in the times to come, the Staff Selection Commission (SSC) aims to conduct competitive examinations in all the 22 Indian Languages mentioned in the 8th Schedule of the Constitution. The intention is to provide a language-neutral, level playing field to all the aspiring candidates, he said. 
Addressing the Valedictory Session of 'Bharatiya Bhasha Utsav and Technology & Bharatiya Bhasha Summit' in New Delhi, Dr Jitendra Singh said, it was at the behest of Prime Minister Shri Narendra Modi that from this year onward, SSC examinations are being conducted in 13 languages, that is 11 regional languages in addition to already existing Hindi and English, while before 2014, candidates had no option, but to choose either Hindi or English as the medium of examination. He also underlined that before 2014, the translation of English into Hindi was also done very poorly, putting the students at a disadvantageous position.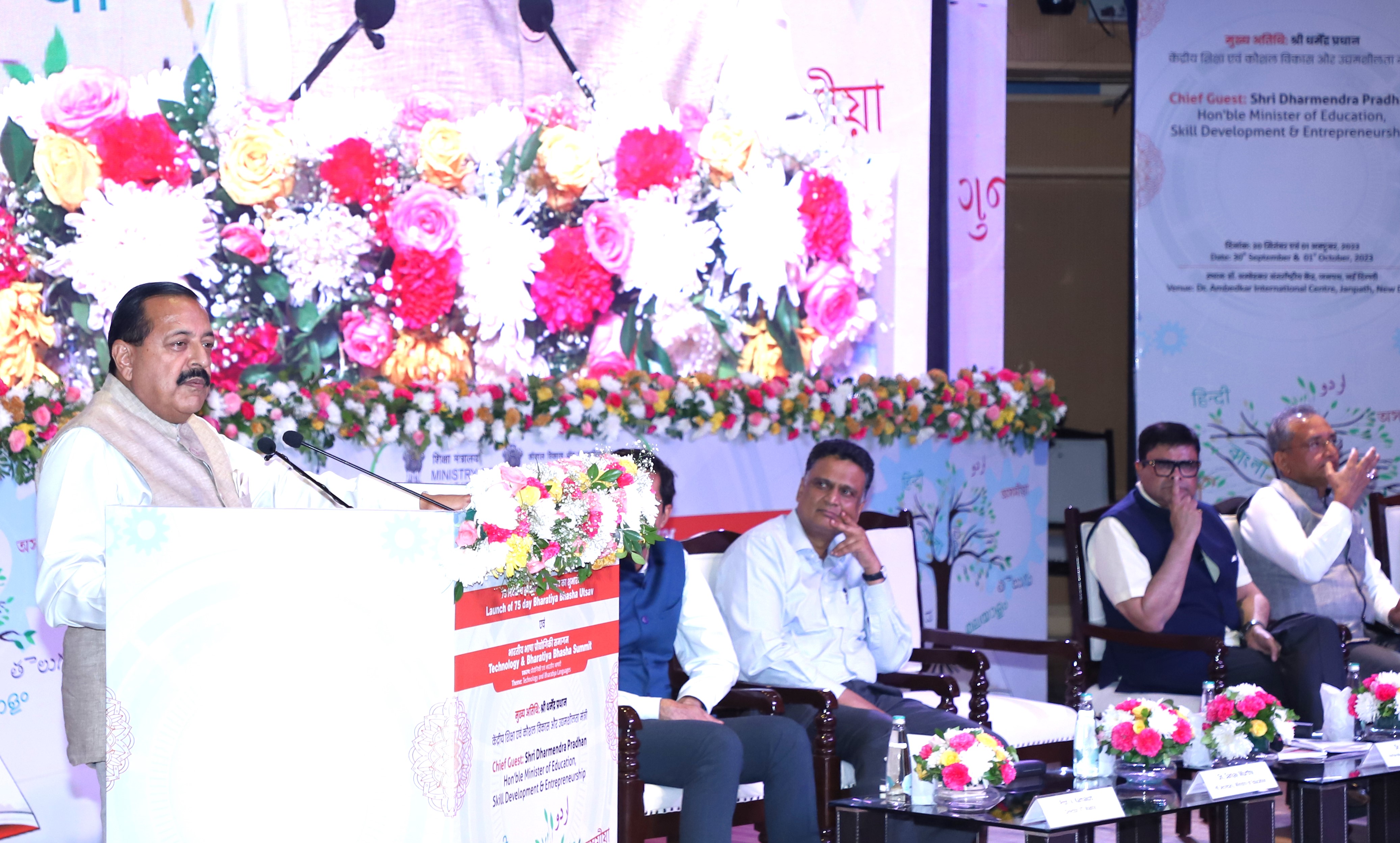 Dr Jitendra Singh informed that the JEE, NEET and UGC exams are also being conducted in 12 Indian Languages and this historic decision will give impetus to participation of local youth, improve their selection prospects and encourage regional languages.
Dr Jitendra Singh said, notable progress has been made in the last more than nine years under the leadership of Prime Minister Shri Narendra Modi to promote the Indian regional languages besides the Official Language, Hindi.
Dr Jitendra Singh emphasised that all should take pride in the "esteem of the language" for its proper growth and development. He gave examples that all the developed countries including the European Nations take pride in speaking, writing and promoting their own languages and India should also do the same.
The Minister also informed that PM Modi has given a call to provide Medical and Engineering education in regional languages such as Hindi, Tamil, Telugu, Malayalam, Gujarati & Bengali.
Dr Jitendra Singh said the Prime Minister Shri Narendra Modi has taken a very historic decision in the new National Education Policy (NEP) by giving importance to the mother tongue of students in Primary, Technical and Medical education. Terming NEP as the biggest path-breaking reform in India since Independence, he said, it will transform India's education system to match global benchmarks.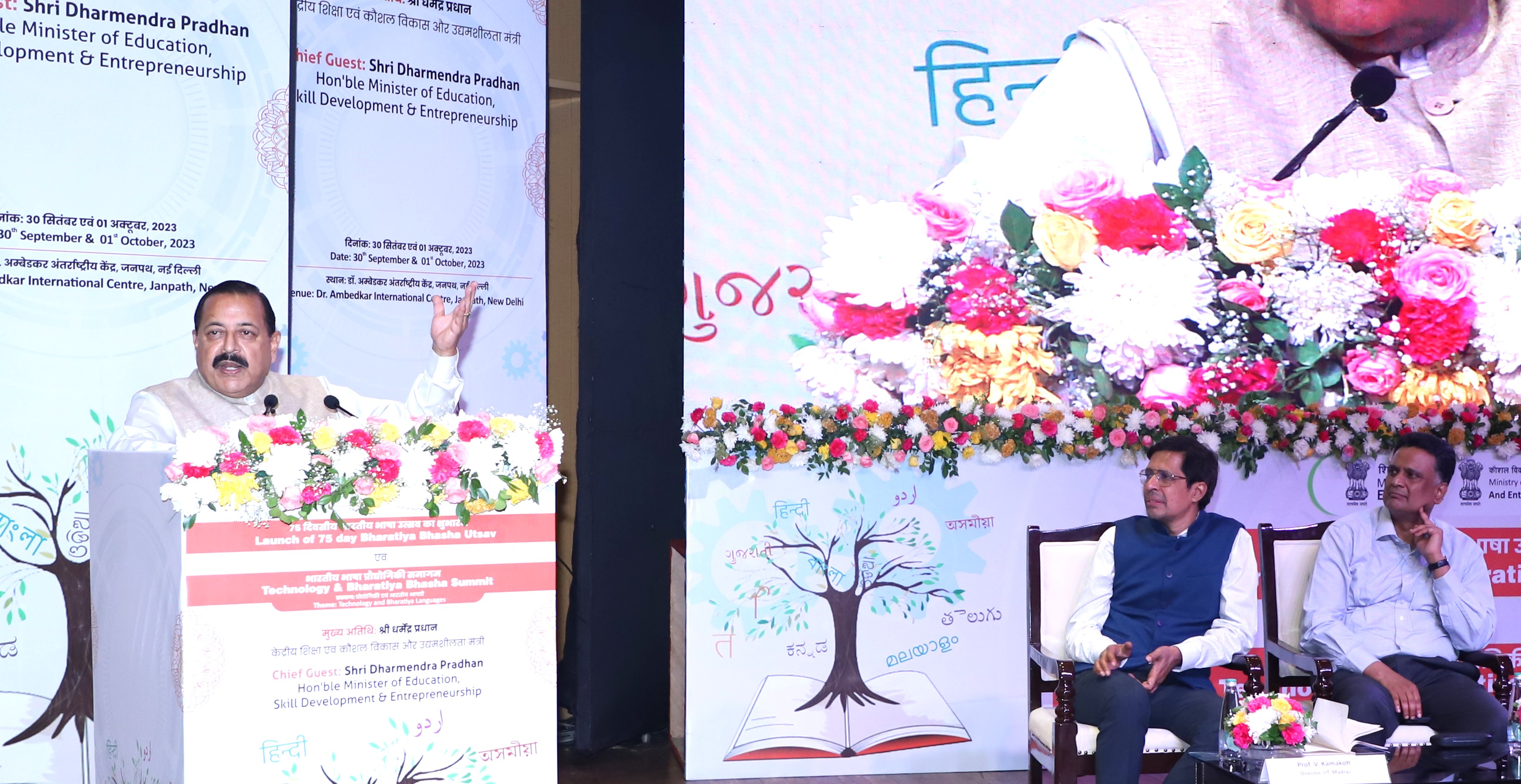 Dr Jitendra Singh hoped that the journey of Indian Languages in the AmritKaal of next 25 years will truly usher in the Celebrations of Indian Languages in 2047, which he described as "Bhartiya Bhashaon Ka Utsav".
"Guided by the vision of the Prime Minister, NEP 2020 was launched with a view to groom the youth and prepare them for leading the country in AmritKaal, said Dr Jitendra Singh. The NEP aims to prepare them for meeting the challenges of the future while keeping them grounded in traditional Indian ethos, he added.
Dr Jitendra Singh said the NEP 2020 promotes the use of regional languages and development of eContent by all States in all regional languages. The eContents/programme uploaded under PM eVidya are based on NCERT curriculum. Besides this, many states have also offered and uploaded their eContents for PM eVIDYA, in line with the curriculum of their education boards/SCERTs.
Dr Jitendra Singh said the 'Digital Infrastructure for Knowledge Sharing for School Education' (DIKSHA) is the One Nation, One Digital Platform, which provides support for delivery of quality education to students of classes 1-12 through QR coded textbooks and various specialized e-Contents in 33 Indian languages. 18 online courses under NISHTHA are delivered through DIKSHA platform in 11 languages for teachers.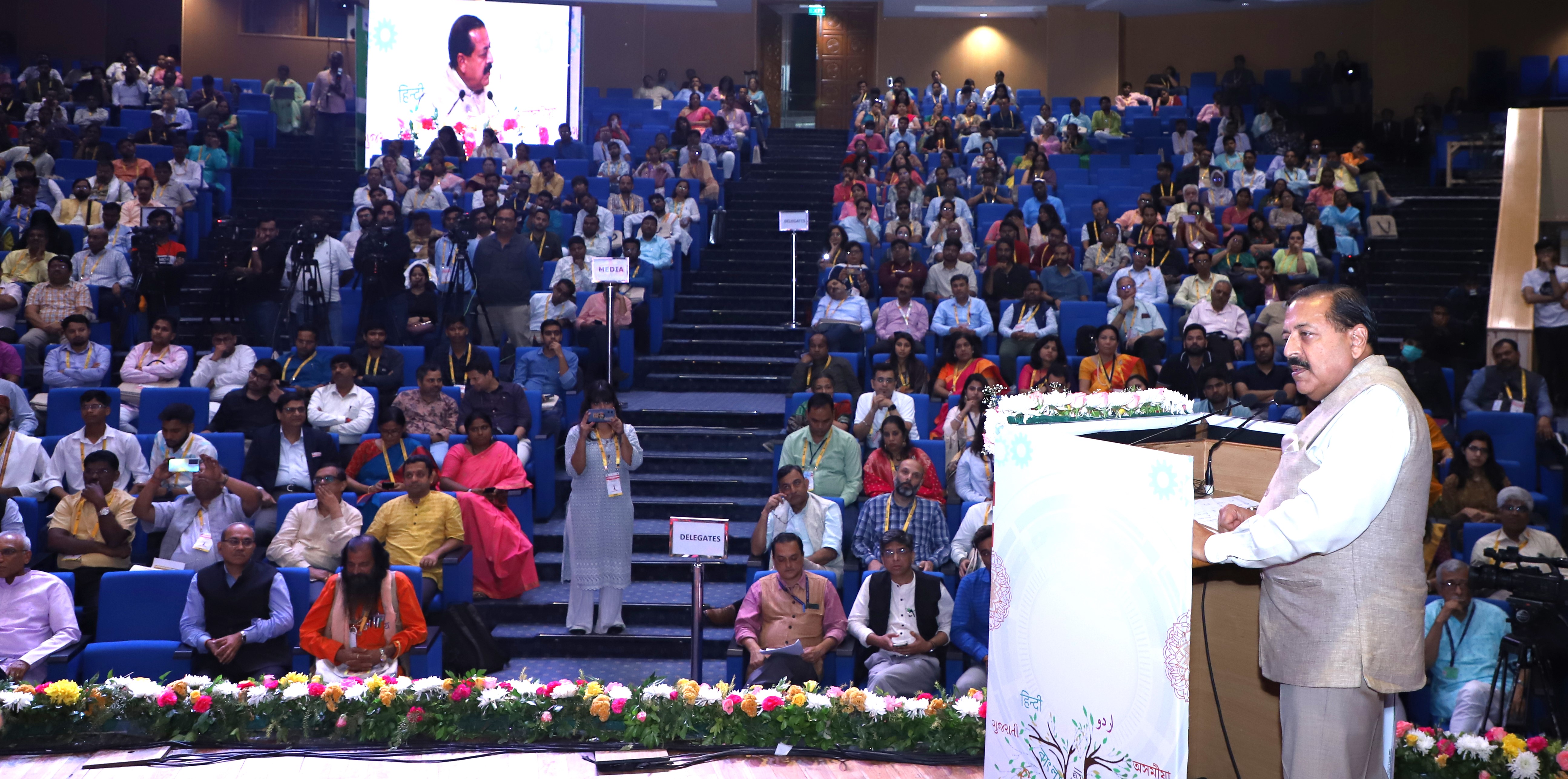 Dr Jitendra Singh said, as a follow-up of the NEP 2020, development of four National Curriculum Frameworks, viz., NCF for School Education, NCF for Early Childhood Care and Education, NCF for Teacher Education and NCF for Adult Education has been initiated. NCF for Foundational Stage was brought out last year and launched by the Ministry of Education on 20 October 2022 while the NCF for School Education was released on 23 Aug 2023.
Dr Jitendra Singh said, in order to provide the Engineering course material in Indian Languages, the AICTE has introduced the Technical Book Writing and Translation in 12 Scheduled Indian languages namely Hindi, Marathi, Bengali, Tamil, Telugu, Gujarati, Kannada, Punjabi, Odia, Assamese, Urdu and Malayalam for 1st & 2nd year curriculum.
"29 institutes across ten states in seven Regional Languages namely Bengali, Hindi, Gujarati, Kannada, Marathi, Tamil & Telugu have been identified for imparting Engineering education in one or more disciplines," he said.
Dr Jitendra Singh said that under the 'Ek Bharat, Shreshtha Bharat' resolution, the Bhasha Sangam Programme has been initiated for the familiarisation and promotion of mother tongue and Indian Languages.
"Incidentally, the first event at the Bharat Mandapam after its formal inauguration was the inauguration of Akhil Bhartiya Shiksha Samagam by PM Modi on 29 July 2023," he said.
Dr Jitendra Singh said, today, around 40 million Indians are in higher education, more than the figure for the US and EU combined and the ambitious NEP seeks to double that number.
"NEP-2020 supplements the Start-Up ecosystem with the promise to open new career and entrepreneurship opportunities for students and youth in India," he said.
Dr Jitendra Singh said, in order to promote the Public-Private Partnership in R&D efforts, Prime Minister Shri Narendra Modi came out with the Anusandhan National Research Foundation (NRF) Bill, passed by the Parliament in the recent Monsoon session, with a budget of Rs.50,000 crore over five years.
"NRF will promote the culture of research and innovation throughout India's universities, colleges, research institutions, and R&D laboratories and give further impetus to Clean energy research in India and Mission Innovation. As much as 70% of its funding will come from non-governmental sources," he said.
Dr Jitendra Singh said, India has been harnessing new technologies, including the increasing use of drones, big data analytics, artificial intelligence, block-chain and other innovative technologies. He pointed out that India has created a massive jump in its global ranking of Global Innovation Index (GII) from 81st in the year 2015 to 46th in 2021 among 130 economies of the world.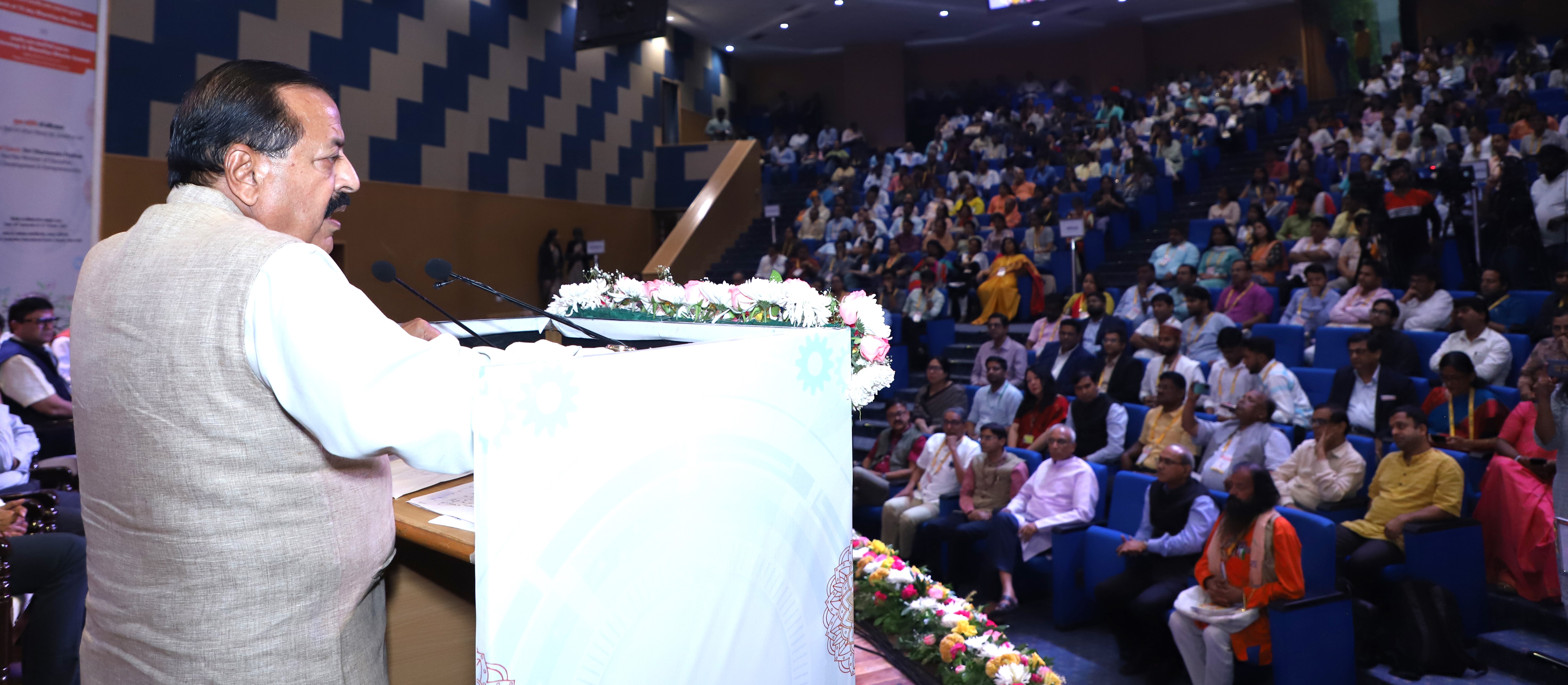 "India ranks 2nd among 34 lower middle-income economies and 1st among 10 Central and Southern Asian economies in terms of GII. The consistent improvement in the GII ranking is owing to the immense knowledge capital, the vibrant start-up ecosystem, and some outstanding work done by the public and private research organisations," he said.
Dr Jitendra Singh said, PM Modi has paved the way for India to emerge as a Developed Nation in the next 24 years of AmritKaal.
"A generation free from the bondage of slavery, eager for innovations and ready to bring laurels in fields from Science to Sports, willing to skill themselves as per the needs of the 21st century, a generation filled with a sense of duty," he said.
Dr Jitendra Singh said PM Modi spoke about the responsibility that growing global curiosity in a strong India places on us.  "Our youth need to reignite themselves with the virtues of Yoga, Ayurveda and ancient art and literature. The current generation of students will be the torchbearers in India's journey to a 'Viksit Bharat' in 2047," he said.