New Delhi. : Union Minister for Social Justice & Empowerment, Dr. Virendra Kumar inaugurated the SHILP SAMAGAM-2022 in, New Delhi today in the gracious presence of Ministers of State for Social Justice & Empowerment  Sh. Ramdas Athwale, Ms. Pratima Bhoumik and Secretary, Social Justice & Empowerment Smt. Anjali Bhawra.
Addressing the Inaugration function Dr. Virendra Kumar said  that through various channel partners of the three corporations – NBCFDC, NSFDC and NSKDFC under the Ministry of Social Justice and Empowerment is  providing a good market system for the sale of products made by the artisans. Shilp Samagam is organized from 1st to 15th November, 2022,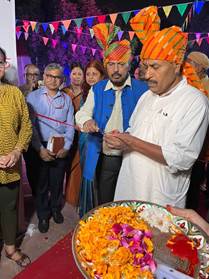 He said that in "Shilp Samagam – 2022" beneficiaries of top corporations have been invited to showcase and sell their handicraft products. 108 stalls have been allotted to them this year. Beneficiaries' products include metal craft products, wooden craft products, cane and bamboo items, ceramic products, handlooms and textiles, wooden utensils, jewellery, leather products, jute products, carpets/dairy, wooden craft products, Chennapatnam Wooden Toys, Phulkari Products, Water Hyacinth Products, Pickles & Organic Honey, Eri Embroidery Work & Sojni Embroidery Work, Screwpin Products, Case & Loin, Jacket, Rajasthani Jutti & Bead Work etc. and other products. These products showcase the rich heritage and cultural diversity of the country.
Union minister said that training in skill upgradation and skill development under the ambitious scheme'PM-Daksh'  of Prime minister  Shri Narendra Modi is also important for the target group of our corporations as the group is mostly involved in traditional economic activities. Therefore, emphasis is also being laid on skill up-gradation to make the economic activities of the target groups to compete in the market. He said that they just need to identify their needs and potential and facilitate their access to government resources and soft loans.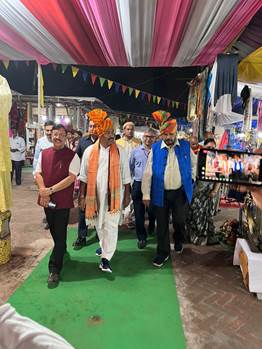 Ministry for Social Justice and Empowerment, Government of India has been providing Marketing Platform by Organizing Exhibition since 2001 at Delhi Haat, India International Trade Fair (IITF) and Suraj kund Craft Mela for the Beneficiaries belonging to Schedule caste, Backward Classes and Safai Karamchari display their Products during the Exhibition under different schemes of the Ministry's Apex Corporations are provided stall free of cost to display and sell their product at these exhibitions with an aim to support and empower its target groups and to enable the Beneficiary to understand the Costumers/Buyers behavior in Metros and big cities and expose to International Buyers.  The apex Corporations has done a commendable job in financing various loan schemes in the country and so far disbursed Rs.15700 crores to cover more than 52 lakhs beneficiaries in the country and under PM Daksh Scheme Rs.495 crores has been disbursed for skill development of more than 5.00 Lakhs trainees. The participant beneficiaries have reported good sales in these exhibitions which have been a great help for them in repaying their loans to the Apex Corporations. Dilli Haat, INA is centrally located and exhibitions have a good footfall including Domestic and International /Foreign Visitors. Over the years more than three thousand beneficiaries have benefited through the exhibitions at Dilli Haat.
During the 15 days Shilp Samagam-2022 (1st -15th November) marketing exhibition, the products from the 19 different states and Union Territories are on display and sales at Shilp Samagam-2022, Dilli Haat are:
| | | |
| --- | --- | --- |
| S.No. | Name of the State | Craft/Product |
| 1 | Assam | Cane & Bamboo, Handicraft Items and Handloom |
| 2 | Bihar | Handloom Work, Madhubani Paintings |
| 3 | Delhi | Garments |
| 4 | Gujarat | Dress Material (Gujarati Embroidery) Kutch Craft  Beed work |
| 5 | Haryana | Dress material Readymade garments |
| 6 | Himachal Pradesh | Shawls, Stolle Jackets Organic Honey Pickle tea etc. |
| 7 | J&K | Aari work Sozni Work, Kashmiri Shawls |
| 8 | Karnataka | Wooden Toys Incense sticks |
| 9 | Kerala | Screwpine  water hyacinth products  etc. |
| 10 | Madhya Pradesh | Brass products MaheshwariChanderiBagh Print suits dress material Sarees &  Pickles |
| 11 | Maharashtra | Leather products Handicraft Items Dress Materials |
| 12 | Punjab | Phulkari work, Punjabi Juti  dress material |
| 13 | Puducherry | Leather Products,  Wooden Toys, Readymade |
| 14 | Rajasthan | RajasthaniJuti, bed sheets,  Applique  work Pickles khakhra etc. |
| 15 | Tamil Nadu | Garments, Wooden toys |
| 16 | Tripura | Jute, Cane and Bamboo  brooms etc. |
| 17 | Uttarakhand | Khes, Loi,   Dari, Shawl, Dress Material, Jackets, Kurtas and Shirts etc. |
| 18 | Uttar Pradesh | Wood Carving Cloth work Soft toys Chikan Work,  Banarasi saree, |
| 19 | West Bengal | Kantha Stitch and Cut work Dress material Saree etc. |