6 new Ayush hospitals, 100 Ayush dispensaries and 200 Ayush Health & Wellness Centres in Assam soon: Sarbananda Sonowal
The Union Minister for Ayush, Ports, Shipping & Waterways  Shri Sarbananda Sonowal inaugurated the 50 bedded Ayurvedic Hospital at Sriram Chapori in Majuli today. The hospital is aimed at further strengthening the Ayush healthcare system in the state.
The new hospital is equipped with specialised OPD services for Shalya (General Surgery), Prastuti Tantra & Stree Roga or PTSR (Obstetrics & Gynaecology), Panchakarma as well as Kayachikitsa (General Medicine). Apart from it, a modern laboratory, Panchakarma & Ksharasutra Therapy set ups, a Yoga unit, Anorectal clinic, Infertility clinic, Geriatric & rejuvenative clinic, Rheumatology clinic, Lifestyle Disorders as well as Skin & Cosmetic clinic are also available at the newly opened hospital. In the OPD section, 50 patients will be treated at a time.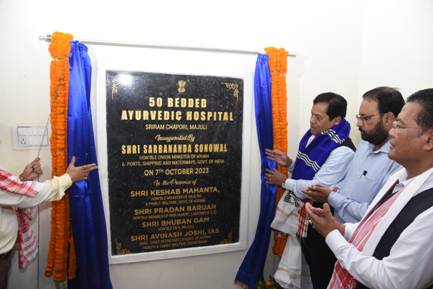 Speaking on the occasion, Shri Sarbananda Sonowal said, "Majuli possesses tremendous potential to become a hub for Ayush healthcare in the region. With its rich flora and heritage, our beautiful Majuli has the unique ability to  become a healthcare hub. This Ayurvedic hospital, while offering treatment to local people, can become a lynchpin to make Majuli become the Ayush hub of the region, aiding to the vision of 'Swastha Bharat' as envisaged by the Prime Minister, Narendra Modi ji."
The Union Minister also announced that 6 new Ayush hospitals are being planned to set up in Assam. Among them, four 50 bedded hospitals to come up in Kaliabor, Morigaon, Kokrajhar and Baksa, while one 30 bedded hospital will come up in Diphu and one 10 bedded hospital in Bajali. Apart from these, the Union Ayush Minister also confirmed operationalisation of 289 Ayush Health & Wellness Centres in the state, while 200 more AHWCs will be operational in Assam soon. Sonowal also announced that 100 Ayush dispensaries will be set up in all districts of Assam.
On this occasion, Minister of Health & Family Welfare, Government of Assam, Shri Keshab Mahanta; MP (Lok Sabha) for Jorhat, Shri Topon Kumar Gogoi; MP (Lok Sabha) for Lakhimpur, Shri Pradan Baruah; MLA (Majuli), Bhuban Gam among other senior officials of Ministry of Ayush, Government of India and state government were present.
***