New Delhi :- 
Department exhibited its major schemes, programs, new initiatives and innovative technologies in the livestock and dairy sector
Minister for Fisheries, Animal Husbandry and Dairying Shri Parshottam Rupala inaugurated the pavilion of Department of Animal Husbandry and Dairying in the World Food India event 2023 organised from 3rd to 5th November 2023 at New Delhi. The Department  participated as partner department in the event. Minister for State of Fisheries, Animal Husbandry and Dairying Shri Dr. L. Murugan was also present during inauguration. The World Food India event was inaugurated by Prime Minister Shri Narendra Modi on 3rd November 2023.  The President of India Smt. Droupadi Murmu was the Chief Guest of valedictory function.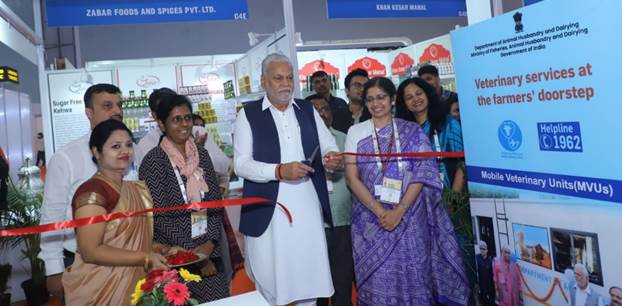 In the pavilion Department of Animal Husbandry and Dairying exhibited its major schemes, programs, new initiatives, and innovative technologies in the livestock and dairy sector. Pavilion also featured 20 stalls, including the National Dairy Development Board, start-ups, and companies working in Animal Husbandry and Dairy sector. The main attractions at the pavilion were the "Selfie Point" and live demonstrations of various innovative products by start-ups and companies. The exhibition highlighted the department's commitment in promoting technological advancements and facilitating the growth and development of the sector.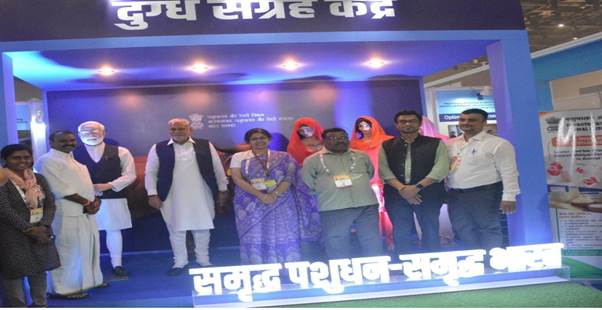 On the inaugural day of World Food India 2023, Secretary Department of Animal Husbandry & Dairying Smt. Alka Upadhyaya participated in a Roundtable discussion. The discussion was attended by CEOs representing more than 70 prominent companies operating in the food processing and allied sectors.
On 4th November, the Department organized a knowledge session titled "Fostering Women Leadership: Advancing equality and empowerment for effective change in animal husbandry & dairy." The session aimed to emphasize the significance and the valuable contributions of women in the food processing industry, particularly in the primary production of milk, meat, and eggs.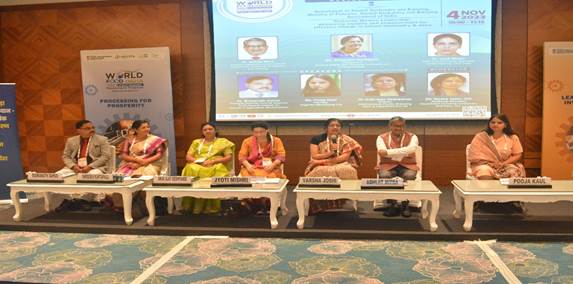 The session was moderated by Additional Secretary (DAHD), Ms. Varsha Joshi and featured distinguished speakers including Animal Husbandry Commissioner, Dr. Abhijit Mitra; Dr. Jyothy Mistry from the Food and Agricultural Organization, Principal Scientist at ICAR – Central Institute for Women in Agriculture Bhubaneswar, Dr. Biswanath Sahoo, Founder of Siddhi Vinayak Poultry Breeding Farm & Hatcheries Private Limited, Dr. Anju Deshpande, Chairperson of Shreeja Milk Producing Company, Shreedevi Kuntapalli and Pooja Kaul Founder of Organiko-Beautifying Life. The knowledge session played a crucial role in acknowledging and encouraging the meaningful participation of women in the development and progress of the sector.
*****