Through the Aadi Mahotsav, a cooperative movement is being given shape for the welfare of tribals and conservation of their unique traditional art: Shri Arjun Munda
Union Minister for Tribal Affairs, Shri Arjun Munda and Chief Minister of Gujarat, Shri Bhupendra Patel inaugurated the Aadi Mahotsav at Ahmedabad today and paid a reverent tribute to Bhagwan Birsa Munda. The 10-day mega event is being organized by the TRIFED (Tribal Cooperative Marketing Development Federation of India, Union Ministry of Tribal Affairs), at the Ahmedabad Haat, Vastrapur, Ahmedabad. The theme of the festival is 'Celebration of Tribal Entrepreneurship, Crafts, Culture and Commerce'.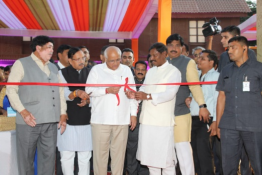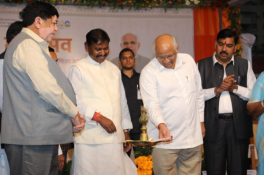 Speaking on the occasion Shri Arjun Munda said, "Diverse traditional handicrafts designed in various tribal settlements across the country, as well as art that has been conserved for years, are on exhibit at the Aadi Mahotsav. Through this medium, a cooperative movement is being given shape for the welfare of tribals and the conservation of their unique traditional art. The goal of 'Aadi Mahotsav' is to promote tribal culture across the country". The Minister invited people to experience the rich and indigenous tribal culture through tribal food, crafts, artwork, and other products at this 10-day National Tribal Festival.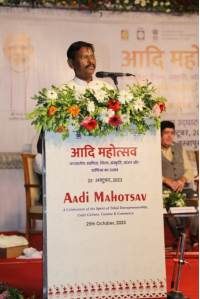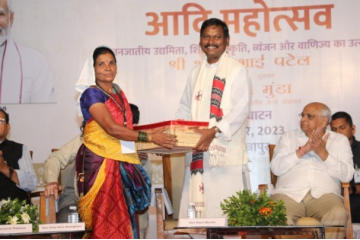 The Aadi Mahotsav features the exhibition-cum-sale of tribal handicrafts, art, paintings, fabric, jewellery, cuisine and much more through 100 stalls. More than 200 tribal artisans and artists from across the country are participating in the festival. Visitors can sample the best that tribal India has to offer – from the famed Warli paintings of Maharashtra to the warm woolens from Ladakh, to various herbs and spices of Tamil Nadu to the special honey and organic produce from North-east India; from the reputed Toda embroidery to the moga silk from Assam and the organic produce from Nagaland. Among the major highlights would be the Van Dhan Vikas Kendras that are displaying and selling their products. The festival is a conglomeration of a mini-India under one roof.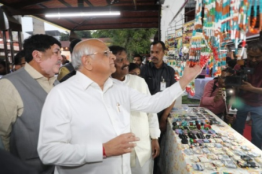 Other dignitaries present on the occasion included Smt. Ramilaben Bara, Member of Parliament and Minister for Tribal Development, Government of Gujarat, Dr. Kuberbhai Dindor, among others.
*****