DARPG adopts fully digitization of CRU and implementation of eHRMS2.0 as best practice under the theme 'Digital DARPG'
Department of Administrative Reforms and Public Grievances (DARPG) has continued participating enthusiastically during 3rd  week of Special Campaign 3.0 in row. The  week  started with effect from 16th October'23 and will end on 21st October'23. This week was focused  in  adoption of digitization  as best practice in DARPG for making the office fully digital  on theme of Digital DARPG.
During the week ,DARPG has  adopted  fully Digital CRU  and made its office  paperless.
A team of Senior officers visited CRU  during this week and found that though the CRU is already digitized but there was  scope for  improvement. Sufficient number of heavy duty scanners have already been provided in CRU . Individual officer and Sections have also been equipped with Scanners. DARPG is working in 100%  eReceipts environment.  Further guidelines issued for better management of CRU.

Adoption of e-HRMS 2.0 in DARPG: All employees in DARPG have on-boarded eHRMS2.0 and all  modules are operational. Leave applications, Advances, Reimbursement, GPF advance and all other Staff related matters are being dealt on-line in eHRMS2.0. Children Education Allowance (CEA), HBA, LTC, Telephone Bill reimbursement, Medical bills, Newspaper bills reimbursement are now on -line in Digital DARPG. Some of the features of eHRMS 2.0 are- User friendly Interface Customizable as per the needs of the Department , Real time application status, Single Sign On , Reduction in application process time and  Availability of service records with the Employee .
Adoption of eHRMS 2.0 has been  really proved an User friendly Interface in DARPG .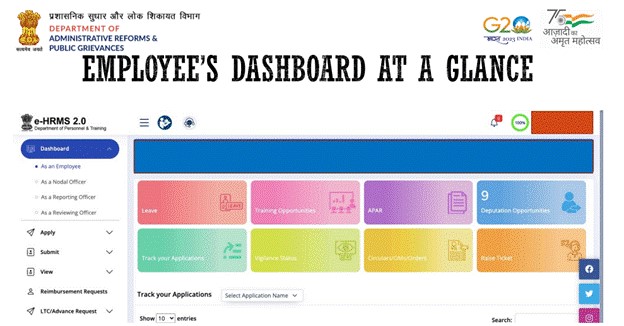 Significant progress in record Management practices has also been witnessed till 3rd week of Special Campaign 3.0 in DARPG –
1863 Physical files reviewed
447  Physical files weeded out
3253 electronic Files reviewed
1317 electronic files closed.
The week has been quite visible in social media also ,as a good no. of tweets  and 3 PIBs issued from DARPG.
Daily progress of Special Campaign 3.0 is being monitored by a dedicated team in DARPG and uploaded on the SCDPM portal on daily basis.
*******